Clearer Vision, Better Flights: The 10 Best FPV Drone Goggles for 2023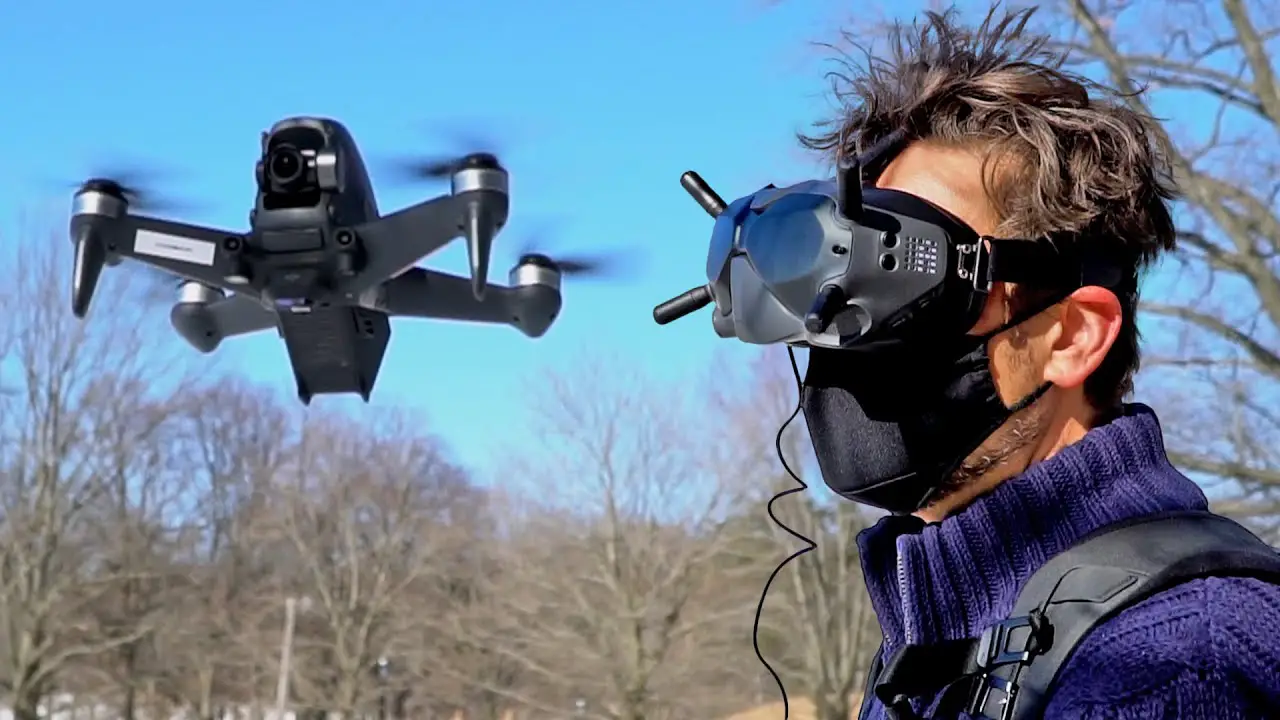 Make the most of your drone flying experience with the best FPV drone goggles.
First-person view (FPV) drone racing was once a rather small subculture, but that's no longer the case. DJI, the largest civil drone manufacturer in the world, has been there for some time, but their newest launches have brought the technology to the masses.
Of course, tensions between DJI's pursuit of a happy medium between quality, big-company regulation, and usability, and those of budget hobbyists and professionals with feature obsessions, persist. This implies that if you're simply dropping in or planning on making a speech, you should give some serious thought to what you're wearing.
There are two primary designs for first-person view goggles: low-profile designs with two screens and best box designs with a single screen that must be placed further from the eyes. In order to prevent misting, low-profile designs need the usage of fans but are more compact and expensive. In most cases, they can be worn even if you need to wear corrective lenses.
Stunt pilots can choose from a number of different video streams, including high-quality but expensive native digital ones or the more conventional analog technique. Not all goggles support external receivers and antennas, but some do. Make sure you have everything necessary to talk to your drone.
Screen quality and technology should also be considered, as well as any built-in DVR features (LED is usually cheaper, LCOS in the middle and OLED the best). With this collection, we've thought of everything (and budgets).
Best FPV Goggles in 2023 - Spec & Features
The Best FPV Goggles in 2023 - Review
1. DJI Goggles 2 - Top FPV goggles for drones
These goggles, released alongside the new DJI Avata FPV, are slimmer and lighter than their forerunners, addressing pilots' concerns about the size of previous models. Because of their compact size and light weight, these are our preferred goggles for DJI's newest and lightest FPV drone. At now, you can only get them in the DJI Avata Pro-View Combo.
The OLED screen on the goggles may be small, but it's really clear and has an adjustable contrast setting. The video stream can be recorded to a microSD card, the touchpad controls are waterproof, and you can even broadcast your footage to other goggles.
The dioptres can be physically adjusted for a clearer view, which is wonderful given the tiny size; some users may find the fit to be a little uncomfortable, but on hot days the fan will help keep them cool. We also like how, when you take off the goggles, a sensor puts the display into standby mode.
2. DJI FPV Goggles V2- Best DJI goggles for glasses
The DJI FPV Combo, which was DJI's first FPV drone, had a design that was already well-known in the FPV community. It was based on a system for sending digital video that builders could put into drones. The same design is also on the newer Avata, which is a little less expensive than the DJI Goggles 2.
The DJI goggles are big and impressive, but they are also pretty heavy, so they have a strap that goes over your head that you don't find on smaller headsets. The four antennas on the system give it great reception, and the menus include settings for DJI drones in an all-DJI setup. The goggles are bigger than box goggles, so they can be worn over glasses. However, they are not low-profile.
Since the goggles have been around for a while, there are a lot of accessories you can buy to go with them. The lower price of the DJI Avata goggles doesn't make them much less useful, but you won't be able to connect them to your phone and watch videos on it. These goggles come with the "Smart Combo" from Avata. The "Pro-View Combo" is what you can get with the "Goggles 2."
3. BetaFPV VR01 - Best budget FPV 
If you're just starting out and money is tight, these are the goggles for you. The design is bulky and the single LCD screen is placed far from the eyes, unlike smaller goggles. Some people like the larger form factor of this "box goggle," yet the frame still has a fan to avoid misting.
While some pilots may find it difficult to see into the edges of the screen due to its large size, this setup is preferred by others. The five buttons on top make navigating the menus simple and straightforward.
The goggles may be cheap, but they capture video at a respectable 1280 by 720 pixels, which is more than adequate for watching and sharing your antics. For those new to analog goggles FPV, the two dipole antennas and integrated receiver are a welcome boon.
4. FatShark FPV Dominator HD - Best drone goggles for FPV geeks
These Fat Shark FPV goggles have a slim appearance but a ton of functions, including a new, more user-friendly OS. The company has also created a profile for these digitally adaptable goggles that has a faint shark-like quality as a homage to their widely popular brand. In order to ensure a suitable fit, the goggles also come with reproducible face-plates and wedges.
As a digital replacement for conventional analog FPV, these goggles are based on the Walksnail Avatar video system, which is thrilling the community because it was created to meet their demands. These are not analogue goggles. For video output, there is a straightforward USB-C to HDMI adapter available, and even without a flight controller, it is possible to get battery information from non-DJI batteries. With "Avatar," you can access standard Betaflight controls. In essence, the goggles have glitzy, contemporary menus, but you can also access the electronics behind them via those menus.
At 1080p, latency will decrease to around 31 m/s, but the goggles will also look nice at 720p, where latency will be as low as 19 m/s. Walksnail is the only video system that works with it at launch. Although you may utilize the goggles microSD card to record at up to 1080p at 60 frames per second, the system can only record to the local 7GB and does not support microSD.
5. Skyzone SKY04L V2 - Good mid-range goggles with built-in receiver
The "Light" version of Skyzone's Sky04X series replaces the OLEDs with cheaper, but still clear, LCOS displays. Skyzone has worked their way up in the goggles industry. You won't have to pull out your wallet to buy a receiver and antennae like you would for, say, a pair of cheap goggles. Yet, both are easily replaceable, which should serve you well as you move forward.
The bundled DVR can record at up to 60 frames per second, and there are also high-end capabilities like a 3-axis gyro and accelerometer for head tracking. The HDMI input may be useful as well. External battery power is utilized, similar to other low-profile goggles, and fortunately the system is compatible with up to 6S batteries (unlike the Fat Shark Dominators).
They are a great option for people who need very strong prescriptions because of the wide range of adjustments available for both the dioptres and the interpupillary distance.
6. ORQA FPV.One - Best high-end FPV goggles for flexibility
These goggles have the appearance of a stealth bomber, which may be enough to entice you to purchase them. Goggles with tracking devices not only enter automatic standby mode when removed from the eyes, but also monitor head tilt to alert the wearer if they are not in proper quad alignment.
You are not limited to a single receiver, and can instead install any of a variety of analog radios within the secret compartment. You'll have to spend extra for modules like Rapidfire or TBS Fusion. There is also a wi-fi upgrade for the goggles available for roughly $60 that allows for connection to a phone and over-the-air software upgrades; this may be installed in the secondary upgrade slot without compromising the design.
The DVR allows for the digital recording of analog video, and it also features a microphone for recording audio so you can narrate your flights in real time and a jack for headphones so you can watch them later. It has a higher frame rate than many competitors and can record at up to 1280 by 960. DJI veterans may make the changeover without being overwhelmed by a subpar user interface, since the other menu options are just as good, and, surprisingly, the menus have the polish and usefulness of high-end consumer products.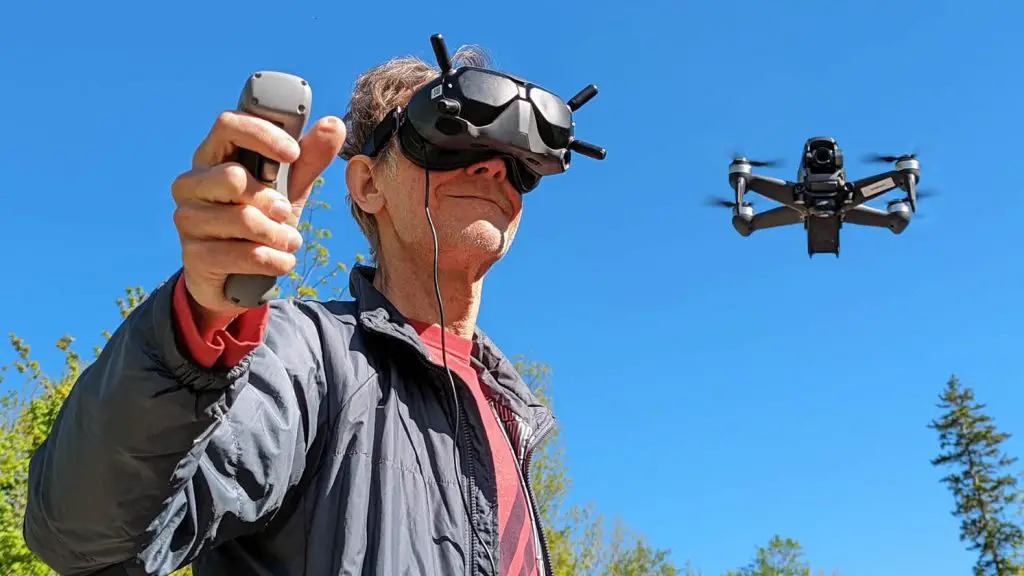 How to Choose the Best FPV Goggles
The FPV goggles you choose will affect how well your video or race turns out. If your goggles don't have the right quality, even a high-quality drone camera won't be able to show you the real picture.
If you choose the wrong goggles, you could hurt your eyes, break your digital FPV quadcopter, or even lose it. The main reason to buy this device is to stream or record video, so it's important to choose a good display and optical parts.
The best FPV goggles offer high-resolution HD screens or OLED displays with glass optical components, 3D/AR/VR support, a dedicated remote controller, and all the necessary connection ports and accessories.
1. Image and video quality
FOV stands for "field of view," which is how much of the world we can see. The degrees show, for example, that the image covers a 30° angle diagonally from the center when the general field of view is 180°. Good FPV camera drone goggles allow a wide field of view (FOV). But if the FOV is too big, your eyes will have to move around to see the whole screen. This could make it hard to pay attention. Between 30° and 50° is the best range.
Resolution is the number of pixels on both the top and bottom of the screen. Since FPV screens aren't very big, people tend to use lower resolutions like QVGA 320240, VGA 640480 (the minimum recommended), SVGA 800600, and FWVGA 854480. The best choices are SVGA and FWVGA, but a higher resolution is also fine. LCD screens are great, but OLED screens are better in terms of brightness and clarity.
Point of view. When it comes to the aspect ratio, I should say that wide-format 4:3 or 16:9 are more common than other ratios. You have to decide for yourself which option is best, but I would recommend picking the one with the least video distortion and cropping. With 4:3, the picture is taller and wider. 16:9 is a great choice if you want to use HDMI goggles to watch movies or play games.
Optics. FPV goggles for drones often have lenses and screens made of glass or plastic. Glass optics and a matte screen are the best ways to get a clear and high-quality picture.
2. Signal Strength and Range
Receiver. For FPV flight, the sender sends analog video to the receiver. It could be an extra frequency module built into goggles. The ones that come with the TV are pretty simple. You can choose a channel and watch it with them.
Goggles can be made to work better by putting external modules into slots on the goggles that are made for that purpose. There are three possible frequencies: 1.3 GHz, 2.4 GHz, or 5.8 GHz, which is the most common.
Range. The ability to add antennas is linked to the longer range. This is because the range of a signal can change depending on how far away it is, especially when digital video signals are being sent. Diversity is the property that has two receivers with different antennas. It makes sure that the video quality and range are the best they can be. By using different kinds of antennas, you can get the best of both. You can use a circularly polarized antenna, which works well in all directions, or a patch antenna, which only works well in one direction.
3. Helpful Add-Ons
When you use goggles to play games, use simulators, or watch movies, having an HDMI port is helpful. It can increase the number of devices, like controllers, that you can connect directly. Since digital HD FPV is now available, it's also a great investment for the future.
Front camera. When you are into FPV monitors, it can be hard to figure out how to get around. Some goggles have a camera built right in. This will let you switch between first-person view (FPV system) and normal aiming mode without having to take off your goggles.
Digital tracking of the head. With the help of an accelerometer and a gyroscope, this technology tracks how your head moves and sends the best signal quality to the drone. The camera on the drone is facing the same way that your head is. Like VR goggles, these signals can control the suspension system so that the camera moves in the same direction as your head. When you use FPV flying or racing goggles, it gives you more options.
Battery. Goggles need electricity. Most built-in batteries have a limited amount of power, can't be replaced, and will determine how long your goggles will last. But it can be charged with a USB cable.
Most of the time, high-end goggles don't come with batteries, but you can use batteries with a lot of power. The best batteries can let you work for up to 3 hours. Some batteries have a shape that looks like a "dog bone," which keeps them from falling out of the slot. Having a battery indicator is also a big plus.
Best FPV Drone Goggles: Final Thoughts
Think about the resolution, field of vision (FOV), IPD, and digital head tracking to select the best goggles.
Moreover, the incorrect FPV goggles might damage the FPV quadcopter by causing eye strain, loss, or failure.
Fortunately, the great FPV goggles I tested don't have any edge blurring or light incursion. Also, they have high-definition optics that place you right in the center of the action. What else?
The FPV goggles come in a variety of sizes, designs, and functions to fit any price range. So purchase an FPV goggle and venture out on your own to explore this fascinating world.
My best option for digital goggles is the DJI FPV V2 (latest FPV), which has a wealth of functions and works with the majority of drones.
Related posts