Get Your Projects Off the Ground with the 7 Best Heavy Lifting Drones of 2023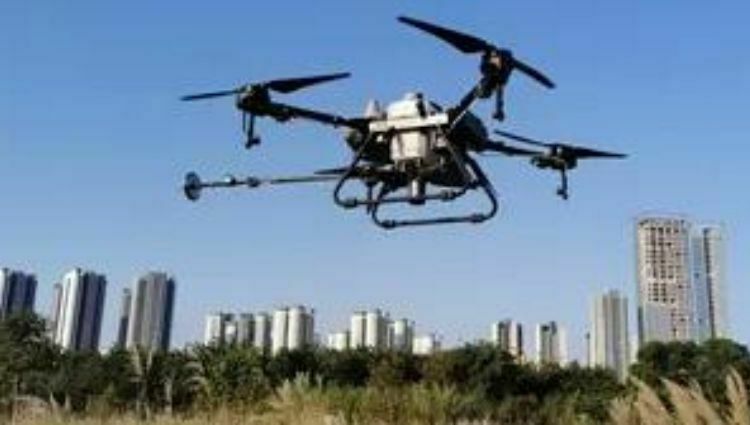 In recent years, heavy lifting drones have garnered attention as a revolutionary technology in the construction and industrial sectors. Because these drones have specialized lifting equipment, they can move heavy loads with ease and precision. In this blog post, we'll explore the capabilities and potential of heavy lifting drones and how they are set to transform the way we work in the near future.
Drones have come a long way from being a fragile device that couldn't lift heavy objects to becoming a useful tool in a variety of industries, including photography, transportation, logistics, and more.
Transporting goods, packages, food, medicine, etc. requires a heavy lift drone, which are huge drones with the ability to carry and operate significant payloads of 10 pounds or more. These drones can carry not only hefty cameras for photography and filming but also cargo and materials.
You've landed on the right page if you're in the market for a rugged drone capable of toting around significant loads. The top drones that can lift big loads are discussed here. We'll also examine the capabilities and limitations of heavy payload drones.
How do Heavy Lift Drones Work?
Heavy-lift drones, which are also called "delivery drones," are unmanned air vehicles used by the military, businesses, and farms to move and deliver cargo, packages, food, and high-end cameras. They can move air cargo in all kinds of weather and in remote places.
What Maximum Weight can a Drone Carry?
A drone's carrying capacity is like a car's top speed: an impractical question to ask. The most weight an UAV can carry depends on how it was built and what it is meant to do.
Amateur drones aren't meant to haul anything extra, but rather to capture images and teach new pilots the ropes. They typically have a capacity of 500 g or less, and in some cases as little as 100 g.
Drones used for heavy lifting purposes, like those used for drone delivery, are unique in that they are purpose-built to transport heavy loads. The technology in them is astounding, and they can often carry loads weighing between 20 and 220 kilograms. An additional payload of more than half the drone's weight is possible with some models.

Heavy Lifting Drone Types
Heavy payload drones have numerous commercial and military uses, and many businesses are taking advantage of this by incorporating them into their operations for a variety of tasks.
1. Engineering
Heavy-duty drones with high-quality cameras can help engineering firms with maintenance checks, transmission cables, and oil pipelines, among other things. Engineers may be able to get a lot more done if they use a drone to do important jobs like planning airports and keeping roads in good shape.
2. Transportation and supply
One of the most rapidly expanding and well accepted uses of drones is drone delivery. Medicines, blood, and vaccinations are just some of the healthcare and medical commodities that have been delivered by cargo drones. Heavy lift small drones can also deliver packages and letters to outlying regions at a lower cost and in less time than alternative transport options.
3. Industry of Agriculture
Heavy-lift agricultural drones are useful for farmers in many ways, not the least of which is their ability to apply pesticides and fertilizers with greater efficiency and precision. Farmers will be able to save a lot of money and time by using this technology to do these jobs that require a lot of work.
4. Disaster relief
In the event of a natural or man-made disaster, heavy lift drones are used to help communities in need with things like food, fuel, water, supplies, medicine, communication, and even energy.
5. Military service
Heavy-lift military drones have greatly expanded the capabilities of militaries around the world in a variety of ways, including the gathering of intelligence, the conducting of surveillance and reconnaissance, and the transportation of explosives and other large weaponry. They can also be used for frontline resupply and casualty evacuation, two tasks that need equipment delivery but are too risky for human pilots to do.
Best Heavy Lift Drones Comparison
7 Best Heavy Lifting Drones Reviews
1. DJI Matrice 600 Pro - Best photography drone
The Matrice 600 is DJI's first heavy-duty six-rotor drone. It is made for professional aerial cinematography and photogrammetry. Even though the Matrice 600 is a lot bigger than other drones, it is designed to be put together and flown quickly and easily. The drone can fly for up to 36 minutes thanks to its six batteries, and it features additional protection while in the air.
The Matrice 600 may contain a wide variety of imaging sensors, including infrared (IR), near-infrared (NIR), far-infrared (FLIR), and light-detecting and ranging (LiDAR) devices. The Matrice 600 has the cutting-edge A3 flight control system and the Lightbridge 2 video processing transmission, which lets it send live footage in 1080p from up to 5 kilometers away.
2. Tarot T18 FPV Octocopter
The Tarot T18 FPV Octocopter is a multirotor drone that can take pictures and videos from the air. It has a built-in GPS system, landing gear that can be pulled back, and an 8-channel radio control system. The octocopter has a maximum flight time of 20 minutes and can reach speeds up to 30 mph.
It is powered by eight brushless motors, one battery pack, and eight electronic speed controllers. The FPV camera drone allows you to watch the live recording from the drone's point of view through goggles or on a monitor. The Tarot T18 FPV Octocopter also has features like waypoint navigation, altitude hold mode, return home function, headless mode, low power alert, and auto-hovering.
DJI Inspire 2 drones are high-end, professional-grade drones designed for aerial photography and videography. They have a camera on a two-axis gimbal that is kept steady by a high-tech flight control system. This makes them perfect for capturing smooth and stable footage from the air.
The Inspire 2 also has an obstacle avoidance system that helps it avoid obstacles while in flight. The drone also has a number of powerful features, such as intelligent flight modes that make it easy to take shots that aren't simple. In terms of performance, the Inspire 2 can reach speeds of up to 58 mph and fly up to five miles away from the remote controller.
4. Freefly Systems Alta 8 - Best cinema drone
The Freefly Systems Alta 8 is one of the best cinema drones on the market today. It's a very flexible drone that can be used for both professional aerial photography and movie-style shots.
The Alta 8 can carry a lot of different camera systems, including RED cameras and other high-tech video cameras, because it can carry a lot of weight. It also has a long battery life, and its eight motors create smooth, stable flight paths. Its carbon fiber frame is also very strong and can handle harsh weather, making it perfect for shooting outside or in remote areas.
Additionally, its simple user interface makes this drone easy to use, even for beginners. All in all, the Freefly Systems Alta 8 is one of the best cinema drones available today.
5. Freefly Systems Alta 6
The Alta 6 operates similarly to the Alta 8, but with only six rotors. Even though this makes the payload a little smaller, it is still enough lift for most heavy lifting jobs.
This high-quality folding drone is very similar to the Alta 8. It has a unique top-and-bottom rack system with quick-release capabilities.
Modern drones are made to work in harsher environments and handle more kinds of system failures.
Everything else I said about the Alta 6 also applies to the Alta 8, so I won't bother to repeat myself again. To get the big picture, though, you need to read on.
The DJI Air 2S is a powerful and robust heavy lifting drone that offers superior performance and reliability. It has a sophisticated flight control system with smart sensors, a powerful brushless motor, and a 4K camera that can take amazing footage from the air.
The Air 2S also has a system to avoid obstacles, a number of automated flight modes, and can fly for up to 31 minutes. With its impressive payload capacity of up to 2kg, the Air 2S is ideal for carrying heavier loads such as DSLR cameras or additional accessories. It is one of the best heavy lifting drones available on the market today.
7. YUNEEC Tornado H920 -Cheapest Heavy lift hexacopter
Amazon sells the Yuneec Tornado H920, the cheapest heavy-lift hexacopter. Its carrying capacity isn't great, but at 1.6 kg, it's perfect for a gimbal and DSLR camera combo.
It can fly at 40 km/h for 24 minutes with cargo (25 mph).
It also has a great controller with a huge LCD screen for easy access to the key features.
The hexacopter has a fail-safe system, so it can land if one motor fails.
It can be used for aerial filming thanks to its carbon fiber frame, arms that can be folded, and case.
8.  DJI AGRAS T16 - Best agricultural drone
There is nothing better than the DJI AGRAS T16 when thinking of huge drones designed for agricultural applications. The fact that it is so easy to use and includes everything you need for farming and spraying crops is a big part of why it's so amazing.
The drone can spray up to 6.5 meters in breadth and carry up to 16 liters of fluid, making it one of the most efficient agricultural drones available and allowing it to cover 10 hectares each hour.
With its dust- and corrosion-proof construction and high IP 67 water resistance rating, this machine is an investment that will pay dividends for years to come.
If you take precautions to boost connectivity, it can fly for up to 18 minutes while carrying a load, and it can travel as far as 5 kilometers.
Top Heavy lifting drone buyer's guide
It's crucial to think about the heavy lift drone's capabilities and characteristics before making a purchase.
Purpose:
Before making a purchase, it's important to ask yourself, "Why should I buy a drone?" The answer to this question will help you decide what kind of drone you want and whether or not it needs extra cameras or sensors.
Flight Duration:
Since you'll be utilizing these drones to haul heavy loads, you need to think about how long their batteries will last in flight. A drone with a 20-kilogram payload and a 5-minute flight time is useless because it won't make it to its intended location.
The nature of the payload:
Not all drones have cameras installed, but we strongly advise getting one that does. Consider carefully how you will equip your drone with whatever weight it will transport. Is there a tried-and-true method of transporting it, or do you have to improvise?
Price:
The pricing of the drone should also be considered carefully. There is a wide variety of drones available, from the simplest to the most advanced. Before you buy a drone, you should carefully think about what kind it is and what features it has.
Weight:
In the end, weight matters. For a more relaxed flight, a lighter drone is preferable. Huge-lift drones, on the other hand, are intended to carry heavy loads; hence, the payload's weight is an important consideration when flying.
Most people don't know that a heavy-lift drone needs to be able to carry twice as much as the load it's usually given to keep the load stable and safe while it's in transit.
Battery capacity:
How long you can stay in the air depends on the battery. Since heavy-lift drones are mostly used as delivery vehicles, they need to be able to fly for a reasonable amount of time. Drones can stay in the air for longer if they are equipped with numerous batteries. The payload's weight, however, reduces the available flight time. Using a bank of batteries is a good way to get rid of this effect.

Heavy Lifting Drone -FAQs
Q. Can people be lifted by heavy-lift drones?
Certain high-end heavy-lift drones can, in fact, lift people, making them extremely useful in rescue operations.
Q. What is the most powerful heavy-lift drone in the world?
The Russian-made Skyf drone has the highest payload capacity of any heavy-lift drone at 400 kg.
Q. What is the double redundancy system for heavy-lift drones?
Heavy-lift drones can be disastrous if their systems fail during an emergency. Important software and hardware components have been made redundant so that if one fails, the other can take over. Double redundancy refers to the presence of two or more identical pieces of software.
Q. How big of a drone can you fly without a license?
Part 107 of the FAA's Small Drone Rule says that you need a license or permit for any drone that weighs more than 250 grams, even if it's just for fun.
Q. How far can a big armed drone travel?
This varies based on what the big drone was made to do. Delivery and passenger drones usually have a range of 500–1800 km. But surveillance drones need a range of 10–100 km to work well, while mapping drones only need a range of 4–8 km.
Heavy Lifting Drone -Final Thoughts
The drone industry is enticing because of the vast potential for growth it offers. Drones have made a good impression in many areas, such as the military, agriculture, and the delivery of packages.
Heavy-lift drones, however, are essential for the simultaneous achievement of flight and logistical movement. Multiple businesses are currently funding the development of ultra-powerful, cargo-carrying drones.
These drones are more expensive, so you should shop around extensively before making a purchase.
The time has come when you'll open your eyes to see drone taxis cruising between the city's tallest buildings. The future of this exciting sector can only be revealed with time.