Fly into the Future with These Top Star Wars Drones of 2023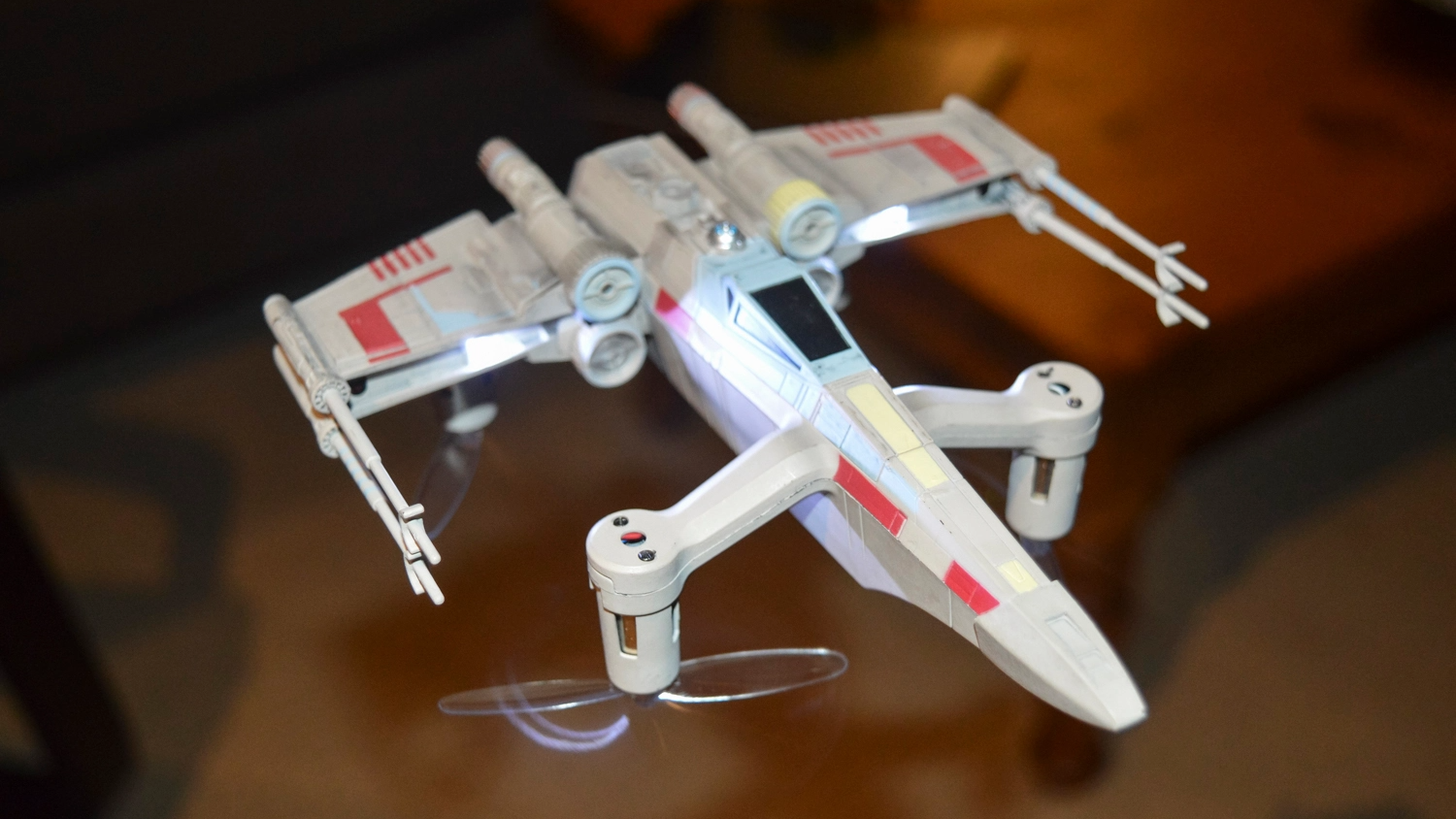 Are you a Star Wars drones fan looking for a new way to experience the magic of the galaxy far, far away? Get ready to blast off into the world of Star Wars like never before with the newest generation of Star Wars drones! These high-tech flying machines are designed to let you experience the thrill of the Star Wars universe in a whole new way. Whether you want to fly, battle, or explore, these drones have something for every fan.
Welcome to our 2023 list of the best Star Wars drones. We're excited to tell you what we think about the newest and best Star Wars-themed drones, whether you're a seasoned pilot or just getting started with drones.
In this blog post, we'll tell you about some of the best Star Wars drones on the market and help you decide which one is right for you. These drones have something for every Star Wars fan, from high-tech ways to move to unique designs based on the movies.
We decided to review these drones because we know that many Star Wars fans are looking for new and exciting ways to enjoy the magic of the series. These drones offer a unique and fun way to fly, fight, or explore the galaxy. So, let's jump right into our review of the best Star Wars drones for 2023!
Best Star Wars Drones Comparison Table
Propel Star Wars Drones Reviews
1. Propel Star Wars X Wing Starfighter
First, Propel Star Wars X Wing Drone is a popular Star Wars-inspired drone. It looks like the movie's X-Wing and can do flips, barrel rolls, and other acrobatics.
The X-Wing is a reproduction with movie sound effects. It's a terrific drone for kids and adults and a great Star Wars gift.
The Propel Star Wars X Wing Drone has a flight time of 6-8 minutes, shorter than some of our other drones. It's long enough for enjoyment.
The reduced time flying is fine as these drones are usually bought for design and tricks. Many buy them to collect.
The Propel Star Wars X Wing Drone has a 30 m range, which is fine for a toy drone, but if you want to fly it in a big park, you might prefer a more costly drone with a longer range.
These drones can fly indoors. Most gift drones for kids are short-range.
For a toy drone, the Propel Star Wars X Wing Drone can reach 35mph. It can flip and roll easily. Nothing spectacular, but a lot of fun.
The 0.45 kg Propel Star Wars X Wing Drone is 7.48 x 2.17 x 13.19 inches. One of our smallest and lightest drones. The drone works well indoors and in tight places.
Propel Star Wars X Wing Drone design is awesome. It looks and sounds like the movie X-Wing. Though plastic, it can handle a few bumps and bruises. The toy drone is well-built.
Kids and adults love the Propel Star Wars X Wing Drone. It is a movie-accurate X-Wing with sound effects.
Flips, barrel rolls, and other tricks are its specialties. The flight is shorter, yet long enough to have pleasure.
2. Air Hogs Star Wars Millennium Falcon XL
Star Wars' Millennium Falcon is famous. Recreate your favorite movie sequences with this Air Hogs replica. Twin rotors and super-durable foam make the Millennium Falcon steady.
Lights and noises bring planes to life. Fly it headless for stability. Star Wars fans should choose this.
For its size and affordability, this drone offers a respectable 8-minute flight time. Drone flying times are often criticized, however 8 minutes is good.
Drones have shorter flight times than desired. However, this drone can fly a few times before recharging.
This drone has good range. Most folks can use its 250-foot range. Buy an extra battery to fly farther.
250 feet is enough for most individuals. Star Wars drones under 200 have the longest range.
A cameraless drone is frustrating. Drone photographs and videos are popular.
A good-sized drone. It measures 31 x 6.7 x 22 inches, similar to the Millennium Falcon. 3.8 pounds is heavy. This huge, well-made Star Wars drone is rare. This drone is too big to transport.
This tiny drone can reach 25-30 mph. Many drones can reach 50 mph. This drone can still outrun most people. Only racers need faster drones.
This Millennium Falcon-shaped drone is well-made. Its foam can withstand a lot of damage. Rotor materials are also strong. This drone's lights and sounds add realism.
This drone is great value. It's a realistic Star Wars drone. One of the largest and quickest drones in this pricing range.
Star Wars fans love this drone. It resembles the Millennium Falcon and is well-made. It flies 250 feet in 8 minutes.
It can reach 25-30 mph. Lights and noises make your flights more lifelike. Any Star Wars enthusiast will love this.
3. Air Hogs – Poe's Boosted X-Wing Fighter
Air Hogs' Poe's Boosted X-Wing Fighter is a Star Wars: The Force Awakens reproduction. This little indoor drone can do movie acrobatics like Barrel Rolls and Immelmann Turns. Poe's Boosted X-Wing Fighter has two Boost Modes for high speeds.
Poe's Boosted X-Wing Fighter flies for 4 minutes. Drones take 45 minutes to charge. Four minutes is poor for a drone in this price range.
Poe's Boosted X-Wing Fighter is designed for indoor use, thus 4 minutes may not be enough.
Star war drones can fly 30 m. Most folks should be satisfied with this indoor drone range. Though short for some, the range is still good. A typical drone flyer should have enough range.
The 299-gram Poe's Boosted X-Wing Fighter drone measures 5.08 x 15.24 x 12.7 cm. It's a portable drone. Small size makes indoor flying easy.
Poe's plastic Boosted X-Wing Fighter looks real. The build quality is good, however the wings break after a few collisions. Replacing the wings is easy.
Poe's Boosted X-Wing Fighter is a good indoor drone for flying about. This beginning drone is easy to fly and execute stunts. As predicted with an indoor drone, flying time is short. Poe's Boosted X-Wing Fighter is a good drone for beginners and Star Wars lovers.
4. Propel Tie fighter drone
Star Wars enthusiasts also like the Propel Tie fighter drone. The movie tie fighters inspired this drone. Star Wars fans will love this iconic ship.
High-quality materials make the drone durable. It's quick and long-range. The Propel Tie fighter drone is exciting and unusual.
Propel Tie fighter drones fly for 7 minutes. It gives you time to appreciate flying. This toy drone flies longer than most. The Propel Tie fighter drone is suitable for slow drone flyers.
Propel Tie fighter drones fly 25 m. You can fly your drone around your house or lawn without worrying about losing it. Drone owners who travel will appreciate the flight range. This drone is simple to use.
The 35-mph Propel Tie fighter drone. Drone enthusiasts will enjoy this speed. Drone speed increases fun. However, faster drones are harder to control.
For a portable drone, the Propel Tie fighter is 3.2 x 6.5 x 6.5″. Travelers will like the drone's size. The Propel Tie fighter drone weighs 0.46 kilogram, perfect for toy drones.
High-quality materials make the Propel Tie fighter drone durable. Controlling it is simple. The drone's design resembles cinematic tie fighters. This is a good tie fighter-shaped drone for kids.
5. Star Wars Air Hogs Star Destroyer Drone
Air Hogs' Star Destroyer Drone lets you fly one of Star Wars' most famous ships. This quadcopter drone can fly 30 mph and last long.
The TIE interceptor inspired it. It can fight other drones infraredly.
Know your drone's flight time before recharging. Air Hogs Star Destroyer Drones fly for 6-8 minutes.
No big deal, however there are drones with longer flight times.
This drone has good range. Its 250-foot range allows you plenty of flight time without losing control. Flying a drone inside your line of sight is safe.
Given its Tie interceptor inspiration, the Air Hogs Star Destroyer Drone is modest. 45.72 x 31.5 x 10.16 cm, 793.79 grams. This drone doesn't have a camera, therefore it's not good for taking photos or films.
Its top speed is remarkable. For its small, this drone can achieve 30 mph. It's a good racing drone.
Air Hogs Star Destroyer Drone is well-built. It's sturdy and resembles the TIE interceptor. It's also easy to fly, so even beginners can learn quickly.
It looks like the TIE interceptor and is one of our greatest Star Wars drones. Star Wars fans will love this drone. It's enjoyable, easy to fly, and has a good flight duration and range. Highly recommended.
Luke Skywalker's Death Star explosion at Yavin changed the Galactic Civil War. X-Wing pilots' bravery won the war. Your T-65 X-Wing quadcopter lets you relive that momentous occasion.
Like Jedi starfighters, this drone has four laser cannons to kill adversaries. The X-Wing has a display stand for showing off to friends and family.
It can fly 7 minutes. It's one of the longest-flying drones. It can destroy drones but not imperial star Destroyers. Beginner pilots may easily fly the X-Wing.
X-Wings can fly 250 ft. It offers a headless mode for novice drone pilots. The range is ideal for park and backyard drone flying.
Despite its shorter range, most users will be satisfied with this drone.
The X-Wing drone is 5.5 x 19 x 17.2 cm. This list's smallest drone is easy to transport. It can fly where larger drones cannot. Smaller drones are easier to fly.
X-Wing drones weigh 0.45 kg. Since it's responsive, it's easy to fly. You can slip it in your backpack and take it everywhere.
Drones can reach 30 mph, like the X-Wing. Racing with larger drones is easy for it. Races benefit from its speed. The X-Wing is stable at high speeds, so you can film without drone shake.
X-Wing materials are top-notch. The body can withstand certain bumps and scrapes. If you strike something, the propellers are shielded. This little drone has excellent build quality.
For a high-quality drone, the X-Wing is cheap. It's affordable and worth it. X-Wing is a cheap, high-quality drone.
7. Air Hogs – Star War X-wing vs. Death Star, the Rebel Assault
The Rebel Assault, from Air Hogs: Star Wars X-wing versus. Death Star, is a unique drone. It's a little X-Wing aircraft from the movie franchise that can be flown indoors or out.
This drone has two modes: solo or multiplayer. Star Wars fans will love Air Hogs – Star War X-wing versus. Death Star, the Rebel Assault.
Its 6-8 minute flying time is short for a small drone, but it's expected. Just a battery change. Since head-to-head mode uses more energy, flying time must be shortened.
The Air Hogs – Star War X-wing vs. Death Star Rebel Assault drone may be flown anywhere with a 150-foot range. Since it's not the steadiest flyer, we recommend flying it in wider settings indoors or outside.
As an X-Wing fighter replica, this drone is huge. One of our smaller drones, it weighs 2.35 pounds and measures 18 x 6.13 x 12. Durable plastic makes the drone heavier.
This 25-mph drone is fast. That's faster than most beginner and advanced drones. In order to preserve fairness, flying head-to-head mode requires a speed reduction.
This Star Wars X-Wing drone is well-built. High-quality plastic can withstand many strikes. For storage and transit, the wings are removable.
The Rebel Assault drone, Air Hogs – Star War X-wing vs. Death Star, amazed us. It's exciting to fly and perfect for movie fans. One of our quickest drones, it's well-built. It's heavy.
8. Air Hogs, Star Wars RC Tie Fighter Advanced
Air Hogs has created a remote-controlled drone in the likeness of the Tie Fighter from the first Star Wars film. It's a faithful recreation, right down to the working lights and working sounds. Air Hogs has thought of everything.
It can travel between 6 and 8 minutes in the air. There's plenty of time in the air for you to enjoy yourself. Toy drones don't wow with their capabilities. In comparison to competing toy drones, its flying time is noticeably longer.
There is a 150-foot range on this drone. For a toy, this would suffice. In a nutshell, the range is fine if you only plan on flying it indoors. The drone is incredibly steady and simple to fly.
This drone is 2 pounds and is 8 by 6 by 2.25 inches. For a toy, the drone is a suitable size. Size-wise, it strikes the perfect balance. If you're looking for a play drone, the weight is ideal.
The drone is well constructed, and its components are of high quality. Design-wise, it's top notch also. The drone's design is a dead ringer for the iconic Tie Fighter starship. The remote is uncomplicated and straightforward to operate. Also, it reacts quickly and accurately. The controls are conveniently located and simple to use.
This toy drone really delivers the goods. The construction and design are top-notch. It has an excellent range and is simple to fly. Flight duration is also favorable. This toy drone is an excellent choice if you're shopping for one.

Tips for Buying 2023's Best Star Wars Drones
When shopping for the top-tier Star Wars drones, there are a few factors to keep in mind:
Flight Time
When deciding on a drone, one of the most crucial considerations is the length of time it can stay in the air for. A drone with a flight time of 8-10 minutes or more is ideal if you plan to use it for recreation. If you merely plan on flying it indoors, though, a shorter flight time will do.
Range of Flight
The maximum possible distance that a plane may go is another crucial factor to consider. To avoid losing control of your drone as you fly it through the park, you'll want to invest in one with a big transmission range. You don't need as much range if you're simply going to be flying it indoors.
Camera
Since these drones are primarily toys, the inclusion of a camera is largely unnecessary. Make sure to acquire a drone with a high-quality camera if you plan on using it for photography or filming.
Size
An additional factor to think about is the drone's size. Due to their limited outside use, star wars drones require a compact design. Also, smaller drones have greater endurance in the air compared to their larger counterparts.
Weight
There are two advantages to having a light design. For one, drones that aren't as heavy can stay in the air for a longer period of time. Second, the less mass your drone has, the less harm it will inflict if it crashes into something. Get a lightweight drone if at all possible.
Design
These drones' incredible design was inspired by the very first Star Wars films. The Millennium Falcon, the X-Wing, and the Tie Fighter are just a few of the cinematic spacecraft that inspired these replicas. Any film buff worth their popcorn will enjoy piloting one of these aerial vehicles.
Durability
Durability should also be taken into account. Because of their plastic construction, these drones won't last as long as others on the market. They aren't indestructible, but they can handle being knocked around and dropped without breaking.
Moves
The coolest part is that these drones can do some very cool tricks. To have a good time, you need a drone that can perform remarkable feats like flips, barrel rolls, and others.
Star Wars Drones – Final Thoughts
The above droids are the best of the best in the Star Wars universe. Everything about them is top-notch, from the construction to the design. There is no one that can't travel far or stay in the air for a long period. Their maneuverability makes them a breeze to pilot.
Any one of these is an excellent option if you need a drone. There are advantages and disadvantages to each different type of drone. Pick the one that fits your situation and budget the best.
This essay was written with the sincere wish that it might be useful to the reader. You can post questions or comments below if you have any.
All the best with your flights, and thanks for reading!
Also Read: