Dji Spark Vs Dji Phantom 3: Which Drone Wins?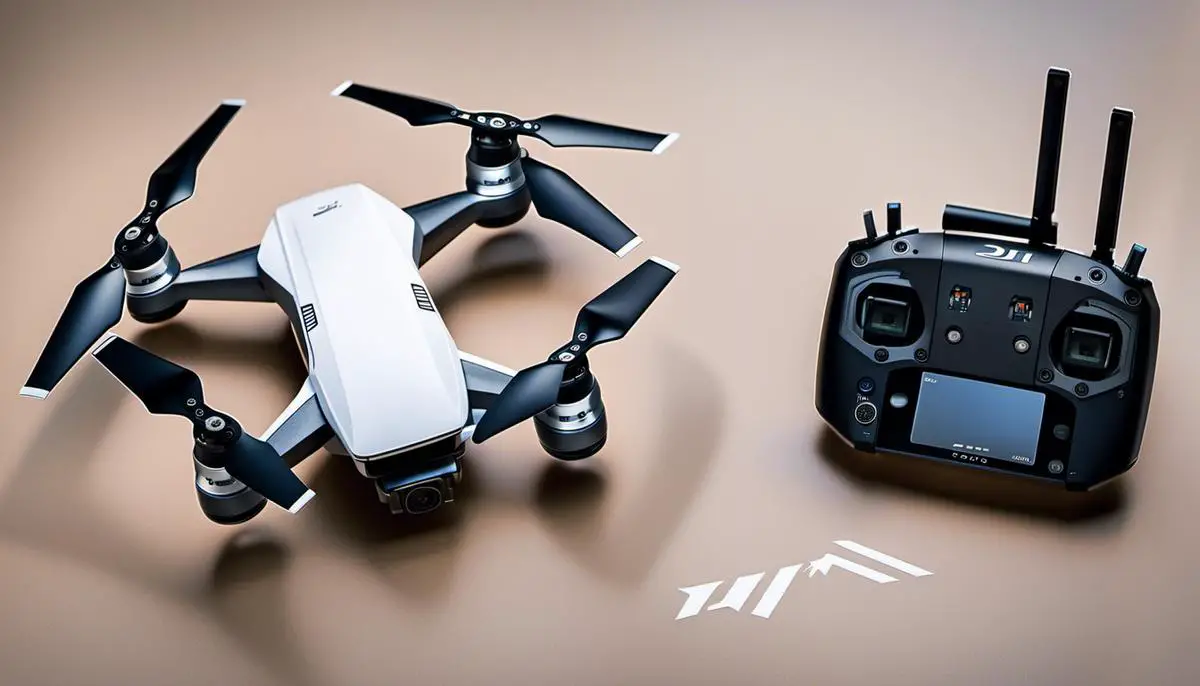 DJI Spark vs DJI Phantom 3: Exploring the key differences and features between these two popular drones.
In the diverse world of consumer drones, two models have consistently garnered attention: the Dji Spark and the Dji Phantom 3. These drones, while sharing the reputable Dji brand, possess unique attributes and cater to different types of drone enthusiasts. The Dji Spark, for example, entices users with its compact design and gesture control, while the Dji Phantom 3 impresses with an extended flight time and higher image quality. This overview seeks to comprehensively explore the basics, delve into their distinctive features, and provide a comparative analysis between the two models. The aim is to equip you, as the reader, with a clear understanding of each drone's capabilities, ultimately enabling informed decision-making for potential purchases.
Understanding the Basics: Dji Spark and Phantom 3
The DJI Spark is a compact, lightweight drone designed with the everyday user in mind. It measures a mere 143x143x55mm, excluding the propellers, and weighs in at 300 grams, making it easy to always carry around. Its small profile means that it takes up very little space, enabling you to focus on capturing your adventures accurately and conveniently.
One of the Spark's standout features is its camera. The drone is equipped with a 12-megapixel sensor capable of shooting Full HD 1080p video. This, coupled with its 2-axis mechanical gimbal, ensures smooth footage and sharp, high-quality photos.
The DJI Spark can fly for up to 16 minutes on a single charge, and it boasts a maximum speed of 31 mph. It has a transmission range of up to 1.2 miles (2 km) and can resist wind speeds of up to 20–28 km/h. The drone comes with intelligent flight modes like QuickShot and ActiveTrack for hassle-free piloting and shooting. Additionally, it has advanced features like gesture control and facial recognition, adding to the drone's appeal. The DJI Spark's price as of 2021 ranges from $399 to $499, depending on the bundle chosen.
Larger and more comprehensive than the Spark, the DJI Phantom 3 is a great choice for those needing more advanced drone features. The drone measures approximately 590mm from motor to motor diagonally, and weighs 1280g, making it significantly bulkier than the Spark.
The Phantom 3's camera is fitted with a 12.4-megapixel sensor that is capable of shooting 2.7K video, making for strikingly crisp footage. A 3-axis gimbal further stabilizes this, enabling even smoother shooting than Spark.
The Phantom 3's larger size accommodates a bigger battery, resulting in an extended flight time. On a single charge, the Phantom 3 can fly for up to 25 minutes. It can achieve a maximum speed of 57 km/h and has an impressive maximum transmission distance of up to 5 km.
The DJI Phantom 3 offers intelligent flight modes like Follow Me, Waypoints, and Point of Interest. Its design also incorporates safety features such as auto takeoff and auto return home. This drone's price varies significantly based on the specific model (Standard, Advanced, Professional), but as of 2021, prices start at around $599.
Side-by-Side Comparison
The DJI Spark is a popular choice for novice pilots or casual drone enthusiasts due to its compact size, user-friendly controls, and budget-friendly price tag. However, it's worth noting that its flight duration, distance capability, and video quality do not match the higher standards set by the Phantom 3.
The Phantom 3, though more expensive, takes flight performance a notch higher with impressive flight time, a wider control range, and superior video resolution. Not to mention, an array of intelligent flight modes are available with the Phantom 3, something that is lacking in the DJI Spark, giving seasoned drone users more functionality.
Your decision between the DJI Spark and the Phantom 3 should hinge on your individual needs, financial constraints, and flying expertise. For a compact and affordable drone for fun and leisure, the Spark is your go-to. But if you'd rather shell out a bit more for extraordinary video quality, extended flight duration, and comprehensive flight capabilities, the Phantom 3 will serve those needs better.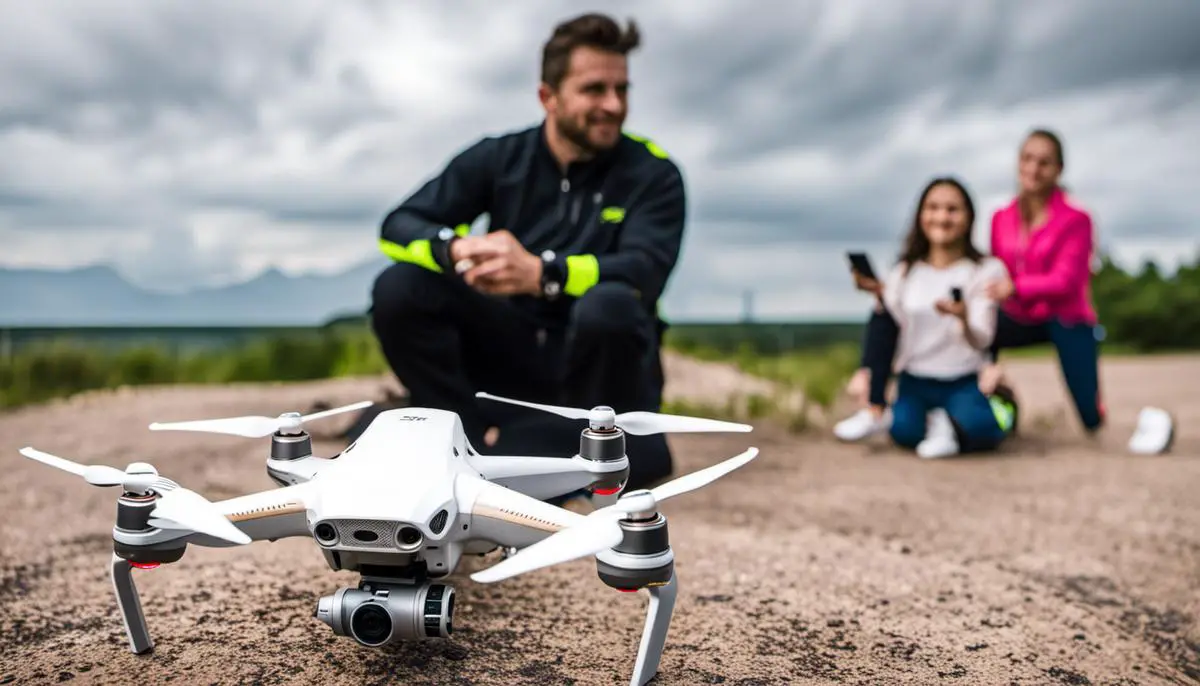 Exploring the Specific Features of Dji Spark
Distinct Attributes of DJI Spark
The DJI Spark has several distinguishing features that set it apart in the highly competitive drone industry. Perhaps the most significant of these is its cutting-edge gesture control functionality, which offers pilots the freedom to maneuver the drone using simple hand movements. This innovative approach to drone control provides an unmatched level of immersion and control beyond that of typical remote controllers. This unique functionality relies on advanced features, including a vision sensor and a 3D sensing system, which can detect obstacles within a 16-foot distance, thus significantly enhancing safety measures and reducing the chances of collision.
Compact Size and Portability
Another distinctive aspect of the Dji Spark is its small size and portability. The drone is designed to be compact and lightweight, with dimensions of 143 x 143 x 55 mm and a weight of 300 grams. This compact design makes the drone highly portable and practical, especially for travel enthusiasts and those engaged in outdoor filming endeavors. Despite its small size, the Spark also boasts a flight time of 16 minutes, making it highly efficient.
DJi Spark vs DJi Phantom 3
When it comes to comparison with the Dji Phantom 3, there are more differences than similarities. The Phantom 3 is larger and heavier than the Spark, making it less portable. However, it does offer a superior flight time of 23 minutes due to its larger battery.
In terms of camera quality, the Phantom 3 has an edge with its ability to shoot 4K videos, while the Spark offers 1080p. However, Spark compensates for this with a variety of intelligent flight modes such as TapFly, Active Track, and QuickShot, providing users with highly creative and visually appealing footage.
The Phantom 3 is also lacking when it comes to Spark's gesture control functionality. While Phantom 3 relies on a more traditional controller for navigation, Spark provides a more interactive flying experience with its gesture controls.
However, it's worth noting that the Phantom 3, being an older model, may be more affordable in comparison to the Spark, which might be a significant factor for budget-conscious consumers.
Summary
In the world of drones, the DJI Spark and DJI Phantom 3 stand out as two enticing options, each with their own unique strengths. The DJI Spark, small and innovative, brings unique gesture control technology and an array of intelligent flight modes to the table, which appeal to casual users and beginners who prioritize convenience and uncomplicated control. Conversely, the DJI Phantom 3, with its superior camera capabilities and elongated flight times, presents a compelling choice for those who are willing to forgo portability and some advanced features for quality imagery and extended flights.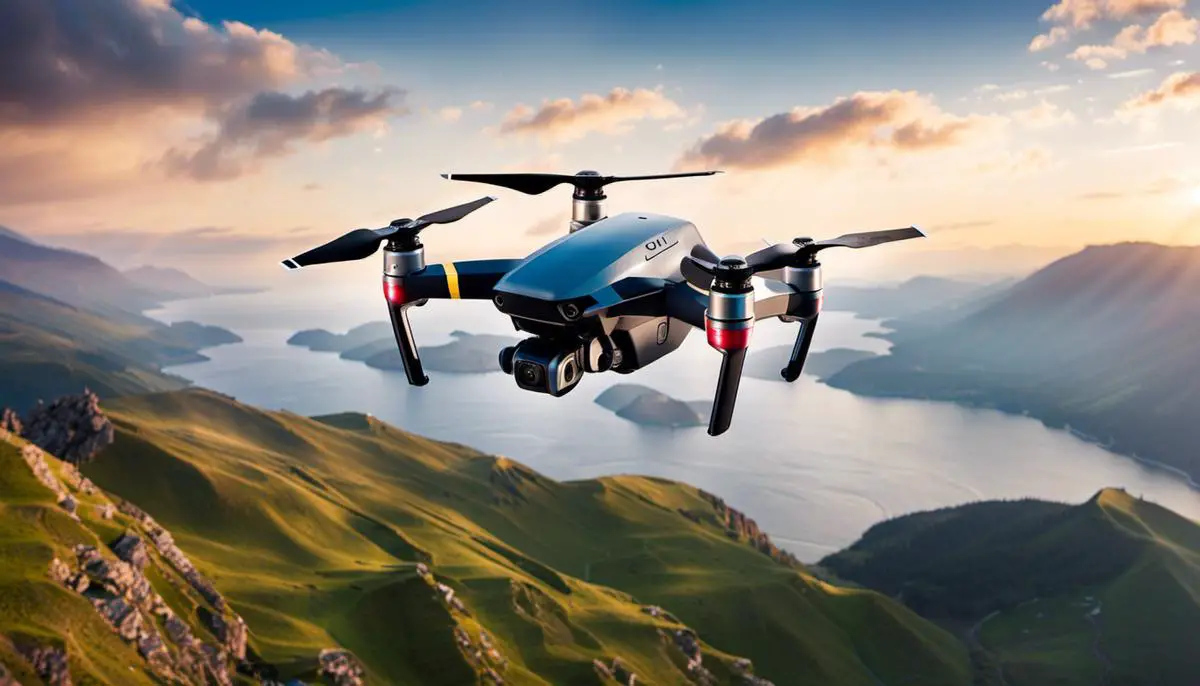 Exploring the Specific Features of Dji Phantom 3
DJI Phantom 3: Overview and Features
The DJI Phantom 3 stands as a renowned member of the DJI drone family, boasting an array of features that are suited to a wide range of airborne endeavors. With top-tier drone technology at its core, the Phantom 3 offers a pleasing flight experience for both newcomers and seasoned drone enthusiasts alike.
What sets the DJI Phantom 3 apart is its remarkable battery life. This drone can fly for up to 25 minutes off a single charge, notably outlasting many of its peers within its category. This standout trait offers extended flight sessions, providing more time for aerial videography and exploratory ventures.
Equally compelling is the superior built-in camera of the DJI Phantom 3. The camera is capable of capturing 12 MP photos and 2.7K HD video, bringing professional-grade imagery within reach. The drone's Three-Axis Gimbal plays a crucial role in stabilizing the camera, ensuring smooth, unshaken footage even amid high speeds or challenging wind conditions.
The DJI Phantom 3 doesn't skimp on flight features either, offering advanced GPS for precise positioning and an inbuilt Vision Positioning System for precise hovering even without GPS, making it well-suited for indoor use.
DJi Spark: Overview and Features
The DJI Spark, on the other hand, is a more compact and easy-to-use drone designed for hobbyists and less professional demands. Its lightweight and small size make it ideal for carrying around and for usage in tight spaces.
The DJI Spark offers a flight time of up to 16 minutes on a full charge. While this is less than the DJI Phantom 3, it is still reasonable considering its size and price point.
When it comes to camera quality, the DJI Spark features a 12-megapixel camera capable of shooting 1080p HD videos. This is lesser when compared to the Phantom but is adequate for casual photography and videography.
Additionally, the DJI Spark comes with a two-axis mechanical gimbal and UltraSmooth technology that helps reduce shake and the rolling shutter effect, keeping shots stable and detailed.
Spark also provides exciting features like intelligent flight modes (quickshot, tapfly, activetrack), gesture recognition, obstacle sensing, and more, making it an enjoyable drone for beginners and casual users.
A Tale of Two Drones: DJI Spark Vs DJI Phantom 3
When contrasting the DJI Spark to the DJI Phantom 3, a series of stark differences start to emerge. The DJI Phantom 3 emerges as a diamond in the rough, flaunting a longer duration of flight, superior image and video resolution, combined with advanced flight features. These traits make it an optimal choice for anyone seeking high-grade aerial imagery or extended flight sessions.
Conversely, the DJI Spark, though small in size, holds its own with its easy operational setup, intelligence-infused flight modes, and overall user comfort. This makes it a top pick for novice fliers and those seeking a casual, yet exhilarating drone flying experience. Admittedly, it may not possess certain features offered by its counterpart, the Phantom 3, but it more than compensates with its effortless manageability and carry-on convenience.
The choice between the DJI Spark and the DJI Phantom 3 aligns with user-specific requirements. For professional duties, the Phantom 3 is indisputably a better choice. In contrast, hobbyist fliers and newbie drone enthusiasts might prefer the Spark.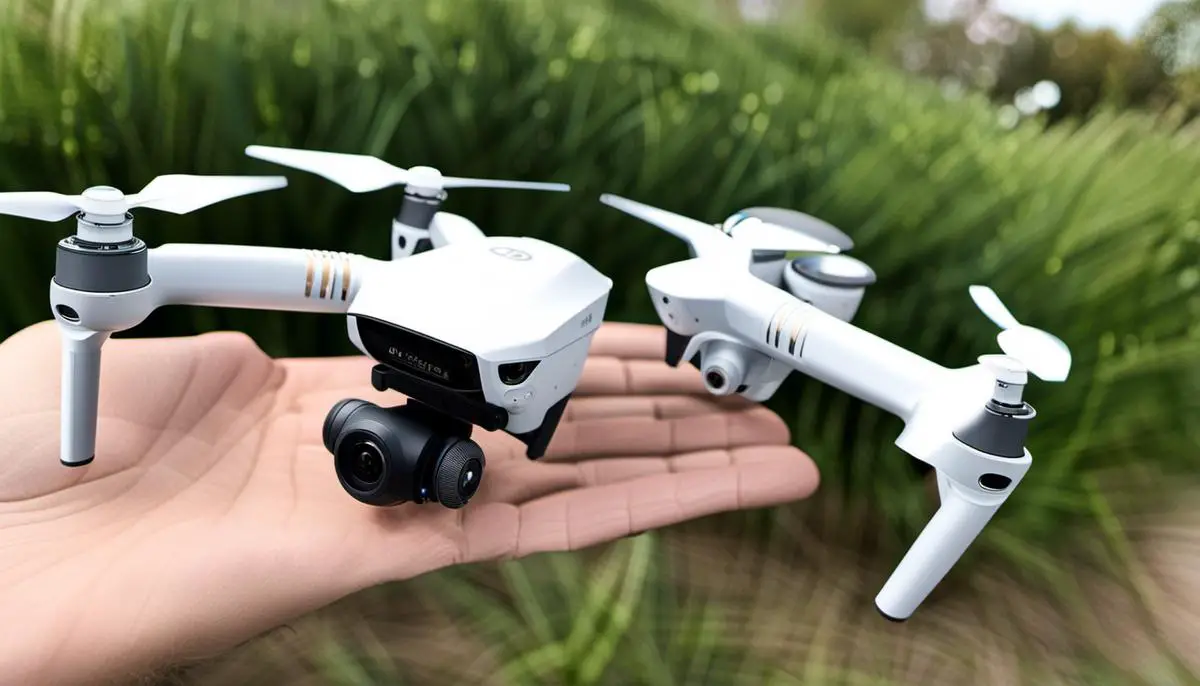 Comparative Analysis: Dji Spark Vs Dji Phantom 3
Feature Comparison: DJI Spark vs DJI Phantom 3
Despite being borne from the same parent company, DJI, these two drones—the DJI Spark and the DJI Phantom 3—appeal to distinct user markets due to their varied features and specifications.
The DJI Spark is a compact drone that boasts a 2-axis mechanical gimbal, which offers stability to its 12MP camera—leading to clearer images and smoother video recording. This mini speedster can reach speeds up to 31 mph (50 kph), while offering a manageable flight range of up to 1.2 miles (2 kilometers). Its 16-minute battery life on a full charge provides a substantial flight duration. In addition, the Spark offers user-friendly flight modes like Quickshot, TapFly, and ActiveTrack to amplify the user experience.
In contrast, the DJI Phantom 3 is available in three different variants – the Standard, the Professional, and the Advanced. Each Phantom 3 model features a 3-axis gimbal, which offers a level of stability superior to the Spark's. The camera quality varies across models—with the Standard model offering a 12 MP camera and the Professional and Advanced models possessing a slightly superior 12.4 MP camera with up to 2.7K video quality. Achieving maximum speeds of up to 35.8 mph (57.6 kph), the Phantom 3 offers a control range from 0.62 miles (1 km) for the Standard up to a whopping 3.1 miles (5 km) for the Professional and Advanced models. Plus, its battery longevity outperforms the Spark, with a commendable 23 minutes of flight time.
DJI Spark vs DJI Phantom 3: Design and Portability
When it comes to design and portability, the Spark and the Phantom 3 are distinctively different. The Spark is compact and lightweight, weighing only 0.66 lbs (300 grams). This makes it easy to carry around, especially for casual users or travelers who want to capture spontaneous moments.
In contrast, the Phantom 3 is larger and more robust, weighing approximately 2.8 lbs (1.28 kilograms), depending on the model. While it may not be as portable as the Spark, its heavier build can withstand windy conditions better, appealing to professional drone operators who require stable and high-quality aerial footage.
DJI Spark vs DJI Phantom 3: User Experience
For the user experience, both drones perform admirably. The Spark, aiming to attract beginners and casual users, stands out with its gesture controls, which allow for simple but limited drone operations using predefined hand movements. Its compact size and simplified controls make it user-friendly, even for users with no previous drone experience.
Meanwhile, the Phantom 3 models are designed for intermediate and advanced drone users. They offer a more sophisticated flying experience with a diverse array of settings and controls that allow for a more precise and complex operation. In addition, they come equipped with GPS-assisted flight, making it easier for users to focus on capturing their desired shots without worrying about stabilizing the drone.
DJI Spark vs DJI Phantom 3: Price
Price is another crucial factor to consider. Generally, the DJI Spark is more affordable than the DJI Phantom 3 models, making it a more popular choice among beginners or those on a tight budget. The Phantom 3, with its advanced features and superior specifications, comes at a higher price point, targeting professionals or serious hobbyists.
While comparing DJI Spark and DJI Phantom 3, it is essential to remember their target user bases and use-case scenarios. For beginners or casual users seeking entry-level drones, the Spark could be a better fit, providing decent performance at an affordable price. For professional drone users who demand top-notch performance and advanced capabilities, the Phantom 3 may hold more appeal.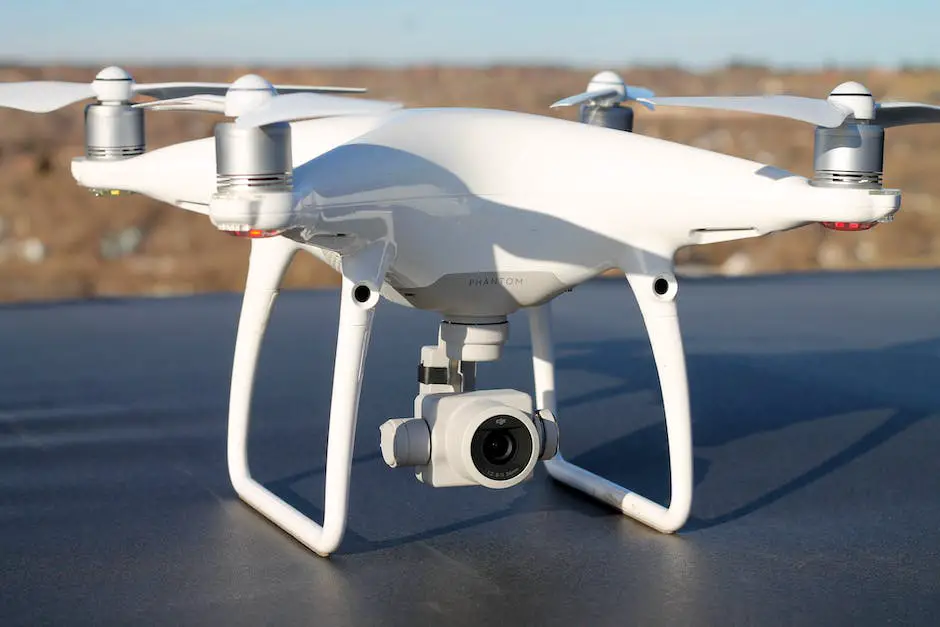 Having explored the myriad aspects of the Dji Spark and the Dji Phantom 3, we've observed that no one drone universally stands out as superior. Indeed, each drone offers its own unique advantages, with the Spark excelling in size and unique controls, and the Phantom showcasing superior flight time and image quality. This comparative analysis has aimed to highlight these disparities, shedding light on how each drone might better serve the unique needs of different users. Whether you're a casual hobbyist seeking the convenience of the Spark, or a more serious hobbyist prioritizing image quality with the Phantom, the choice ultimately hinges on individual preferences and requirements.
DJI Spark vs DJI Phantom 3: Frequently Asked Questions
What are the key differences between the Spark and Phantom 3?
The Spark is smaller and more portable than the Phantom 3.
The Spark has a maximum transmission range of 2 km while the Phantom 3 has a range of 3.5 km.
The Phantom 3 has a longer max flight time of 23 minutes versus 16 minutes for the Spark.
The Spark is a more entry-level drone focused on ease of use, while the Phantom 3 is more full-featured.
Which drone has the better camera?
The Spark shoots 12 MP stills and 1080p video up to 30 fps.
The Phantom 3 shoots 12 MP stills and 4K video up to 30 fps with a 3-axis gimbal for stabilization.
Does the Spark have any automated flight modes?
The Spark has several automated QuickShot flight modes, like Dronie, Circle, and Helix.
The Phantom 3 offers intelligent flight modes like Follow Me, Point of Interest, and Waypoints.
Which drone is easier to fly?
The Spark's simple controls via gestures, a mobile device, or a dedicated remote make it very easy to fly.
The Phantom 3 has a steeper learning curve when flying manually, but automated modes can simplify the process.
Which drone is more portable?
At 300g, the Spark is incredibly compact and portable, designed for travel.
The Phantom 3 weighs 1280g and requires a bulkier case and more space.
What are the warranties for each drone?
DJI offers a 1 year limited warranty on both drones.
Extended warranty plans are available for both the Spark and Phantom 3.
Which drone is better for beginners?
The Spark's ease of use and safety features make it ideal for beginners.
The Phantom 3 has a more sophisticated operation that is better suited for intermediate and professional use.