Discover the Ultimate Drone Parks Near Me!- Unleash the Fun!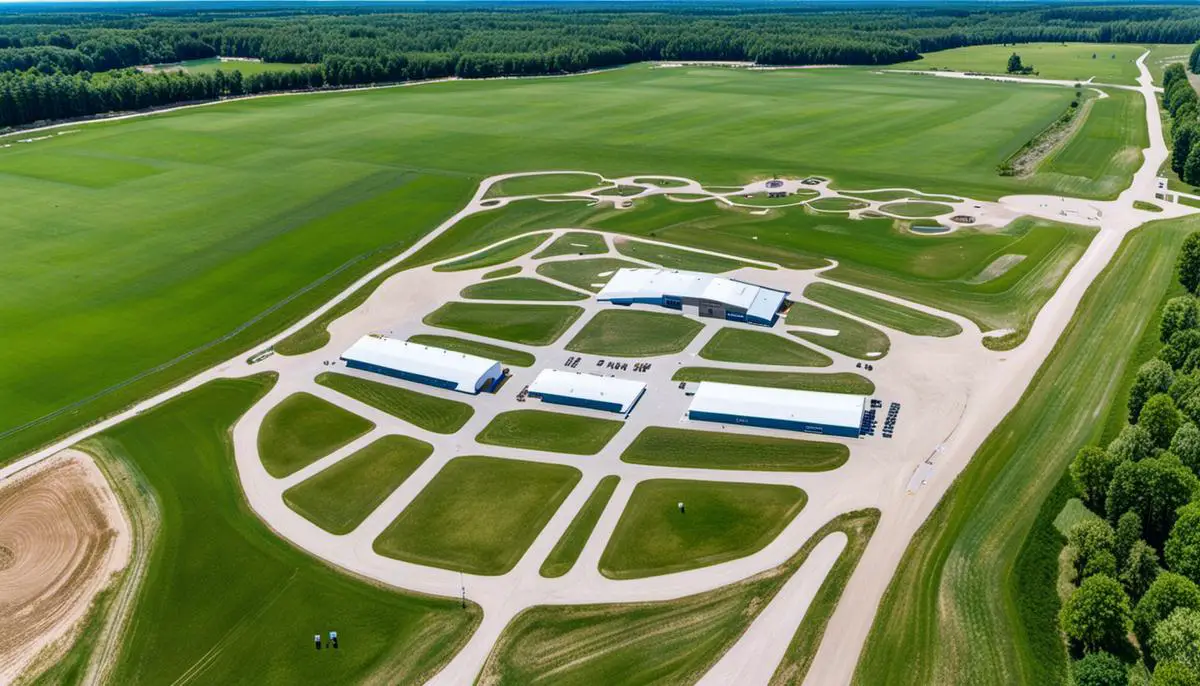 Drone Parks Near Me – Imagine soaring freely through the skies, exploring new vistas, and honing your piloting skills—all with the joy of operating a personal drone. With drone technology becoming more accessible and popular, a growing number of parks, both in the U.S. and worldwide, are offering designated drone-flying spaces. These innovative parks cater to drone users of all skill levels, from novices to experts, by providing open spaces, stunning scenery, and, in many cases, specially designed facilities and amenities. From Flite Test Drone Park in Minerva, Ohio, to Drone Park in South Korea, let's embark on a journey to discover the top ten drone parks near you, where you can truly unleash the fun of drone flying.
Flite Test Drone Park, Minerva, Ohio
A Flight Funhouse in Ohio: Flite Test Drone Park
Flite Test Drone Park enjoys a prime location in the heart of Northern Ohio. Nestled in the scenic town of Minerva, this drone park has carved a reputation as a must-visit hotspot for drone enthusiasts.
The park's draw lies in its expansive open field, which offers drone pilots ample room to maneuver their devices freely in the air. Whether you are curious about drones, a newbie pilot learning to navigate the drone landscape, or have already mastered the art of drone flying, Flite Test Drone Park's expansive area caters to all.
The design of the park simplifies the challenges associated with flying drones. It offers a safe space that respects the skill levels of all drone enthusiasts. This allows beginners to hone their control without the risk of damaging their drones, and experienced flyers can test their skills and experiment with new drone tricks that may not be possible in a less open, more restrictive environment.
But the thrill of Flite Test Drone Park doesn't stop at the open field. Its commitment to fostering a robust drone community shines through in the form of regular events and workshops. Here, you can experience flying drones alongside other enthusiasts, a welcome departure from standalone drone flying.
The events and workshops also serve as a great platform to meet seasoned drone pilots. This offers an exceptional opportunity to observe their skills, learn from their experiences, and perhaps even pick up insider tips that can help improve your flying abilities.
In conclusion, the Flite Test Drone Park is more than just an open expanse. It's a dynamic drone arena that's instrumental in shaping the future of drone navigation by hosting events that not only bring drone lovers together but also aid in honing their skills for the future. It certainly is a space where the drone is not just a fancy toy but a tool for fun, learning, and community building alike.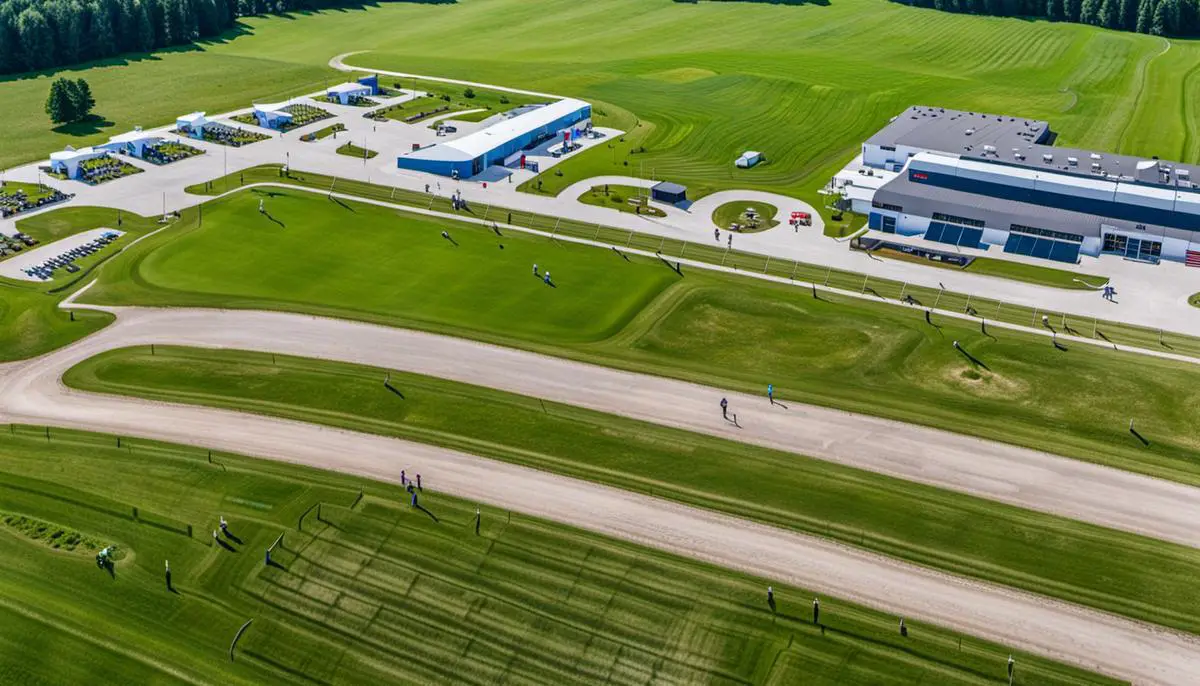 Drone Park, South Korea
About Drone Park, South Korea: A Futuristic Vision for Drone Enthusiasts
Located in South Korea, Drone Park is a cutting-edge playground designed especially for drone aficionados. This one-of-a-kind park stands as a testament to the growing popularity of drone activities and sports around the globe, providing enthusiasts with a space to explore and flex their flight skills.
The park offers an indoor area, an outdoor field, a drone racing track, and a repair center – all earmarked for drone operations. These amenities make Drone Park a unique, all-in-one center catering to a variety of drone-related needs.
Indoor Flying Area for Novices and Unfavorable Weather
The indoor flying area allows users to exercise their devices in a controlled environment, which is crucial for novices or when the weather outside is unfavorable. Safety is a top priority, and the design of the indoor area reflects that, with adequate space for maneuvering and safeguards against any mishaps.
Expansive Outdoor Field for Liberating Flights
Stepping outside, the park features an expansive outdoor field, perfect for those looking for a more liberating atmospheric flight experience. The field's ample size means users can confidently conduct flights without worrying about obstructing parks or areas outside the park's boundaries.
Exhilarating Drone Racing Track
For those seeking an adrenaline rush, Drone Park's racing track is not to be missed. Here, drone pilots can challenge each other in exhilarating high-speed races, testing their piloting skills in a competitive yet friendly environment.
Quick and Convenient Repair Center
Additionally, all drone owners know that the occasional breakdown is inevitable. That's why Drone Park boasts a dedicated repair center on-site. This center offers quick and convenient repair solutions, so you're back up in the air in no time.
A Bold Inspiration for Future Drone Parks Worldwide
While Drone Park may not be found in the United States, it is certainly a bold inspiration for future drone parks worldwide. Its comprehensive, futuristic model serves as an exciting precedent, demonstrating how drone parks can cater to enthusiasts of all levels and interests.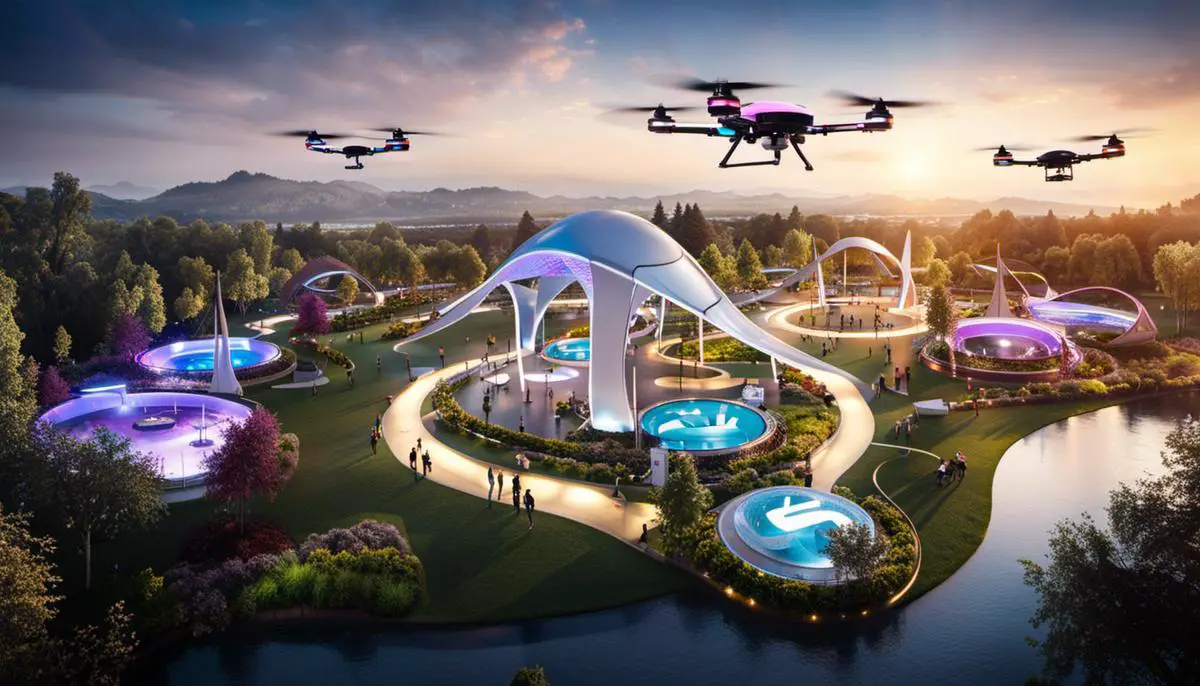 Cesar Chavez Park, California
Unleash Fun at Cesar Chavez Park
Cesar Chavez Park, California, has always been a popular kite-flying spot. Now, it's gaining more traction for another airborne activity – drone flying. The park is beautiful and extensive, offering a huge shoreline that lends a generous amount of space for drone enthusiasts to enjoy the sport.
Gaze Out to the Bay and the Iconic Golden Gate Bridge
Besides having a spectacular location, the park also boasts of picturesque views of the bay area. So, when you're flying your drone at this park, you are met with the breathtaking scenery of the bay and the iconic Golden Gate Bridge. Whether you're steering your drone or watching its recorded footage later, there's something enthralling about capturing the scenic beauty from a bird's eye view.
Tips for Drone Flying at Cesar Chavez Park
While the park does permit drone flying, it's critical to practice drone etiquette when you're there. Ensure that your drone is within your line of sight and you're not hovering too close to other park-goers or invading their privacy.
It is also advisable to keep in mind the Federal Aviation Administration (FAA) rules for drone flying. As per these rules, recreational drone flying should be limited to below 400 feet. Hence, to continue enjoying this privilege of flying drones at this beautiful park, it's important to follow all rules and regulations.
In conclusion, Cesar Chavez Park offers a fantastic spot for drone flying with a picturesque backdrop, provided you respect the park rules and fellow visitors. With its vast shoreline and fantastic views of the bay, unleashing your drone at this location can only promise pure fun and memorable experiences.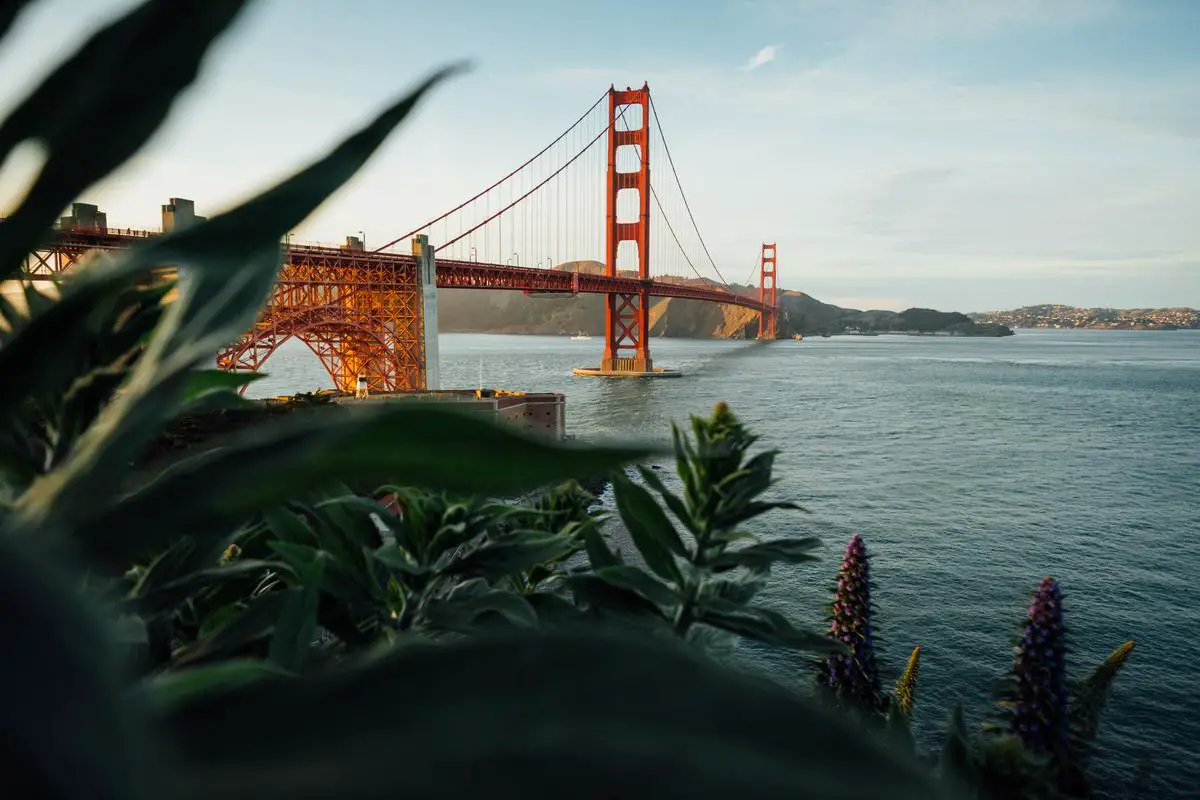 Photo by timberfoster on Unsplash
Magnolia Park, Florida
Magnolia Park
Magnolia Park is unquestionably a jewel in Miami, Florida, known as one of the most drone-friendly parks in the state. This picturesque haven offers more than just a lush, picturesque environment—it acts as an open playground for drone enthusiasts to explore and enjoy.
Expansive Open Spaces
Sporting expansive open spaces, Magnolia Park's landscape is barely obstructed, permitting your drone to soar high and freely with minimal obstacles in its way. This makes the park an ideal choice for beginners seeking a safe space to practice their drone skills, or for seasoned pilots searching for a versatile place to capture breathtaking aerial shots.
Striking Scenery
Apart from its visitor-friendly layout, Magnolia Park is also renowned for its striking scenery. It features a dazzling array of tropical plants, pristine landscaping, idyllic picnic spots, and serene waterways teeming with diverse local wildlife. The park's captivating beauty amplifies the drone-flying experience exponentially. Pilots not only gets to steer their drones through an incredibly scenic route but also record some of the most beautiful and unique perspectives Miami has to offer.
Accessibility
Accessibility is also a key highlight of Magnolia Park. With its prime location, the park provides easy access to locals as well as tourists. Moreover, its well-maintained facilities cater to a myriad of recreational activities, making it an attractive spot for families and groups. While your drone is taking flight, family members can enjoy the various amenities, turning your drone-flying session into a fun outing.
Safe and Responsible Drone Usage
In compliance with Federal Aviation Administration (FAA) regulations, Magnolia Park ensures safe, responsible drone usage within its premises. The park enforcement promotes the set guidelines, encouraging all drone users to respect the park's resources and to maintain the peace and safety of all park visitors.
A First-Rate, Drone-Friendly Location
All these appealing factors make Magnolia Park a first-rate, drone-friendly location. So, if you're in or around Miami and you're itching to unleash your drone into the open sky, you know where to go. Your drone and camera are in for a treat as they capture the stunning landscapes of Magnolia Park.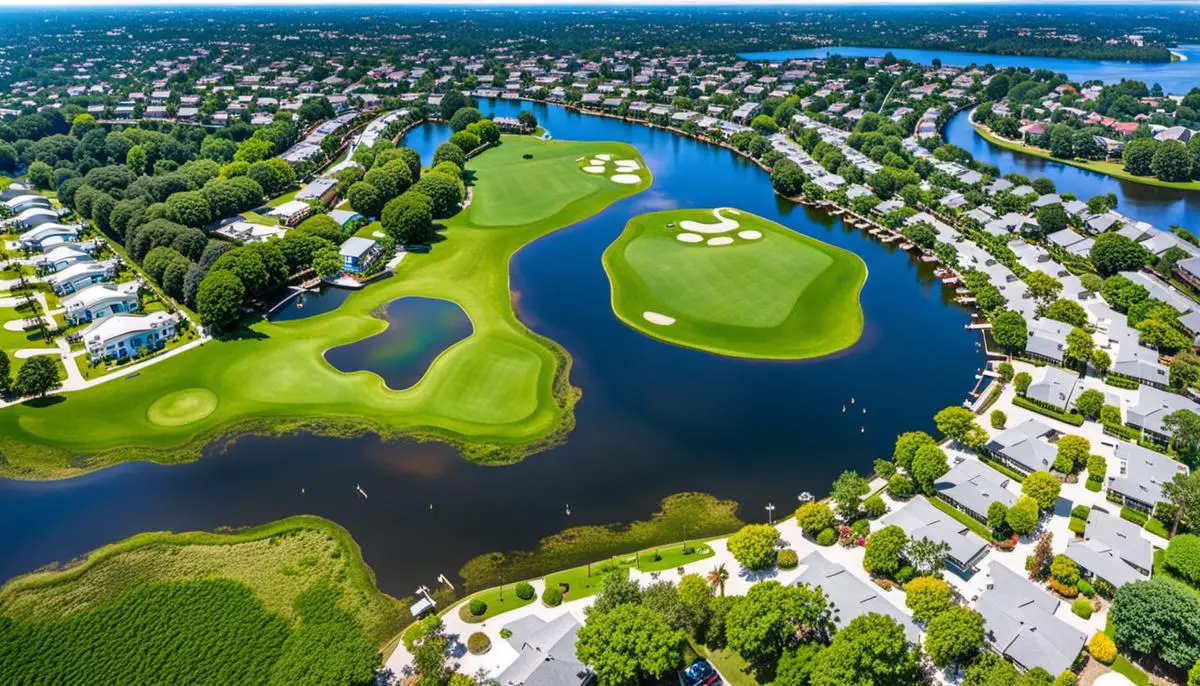 Marymoor Park, Redmond, Washington
A Drone Enthusiast's Paradise: Marymoor Park
Located in the heart of Redmond, Washington, Marymoor Park is an expansive space with lush green fields and breathtaking landscapes which make up a total of 640 acres of recreational fun. However, luring drone flyers from far and wide, the highlight of this retreat is a dedicated area for drone flight, where enthusiasts can let their devices rise into the sky without having to worry about breaking any regulations.
Unleash Your Drone, Unleash the Fun
You can indeed 'unleash the fun' when flying your drone at Marymoor Park as the sky here allows for your radio-controlled aircraft to carve its own corner in the clouds. Hobbyists can enjoy the expansive open skies, while they safely maneuver their drones in the dedicated zone, specifically allocated for this purpose. The park also provides an opportune backdrop for those who wish to film or take aerial images using drone cameras.
Drone Flying is More than Just a Hobby
Flying a drone not only feeds your hobby but also brings the joy of capturing your surroundings from stunning bird's eye views. Imagine having the aerial footage of Marymoor Park's sprawling green meadows, its outdoor concert stage, and the 40-acre off-leash dog park, all from the swiveling eye of your drone. It is a fulfilling and unique form of exploration, and best of all, you can relive the captured moments anytime you wish.
Family-friendly with Ample Amenities
Marymoor Park offers plenty of open spaces for picnicking as well, so family members and friends can soak in the environment while you get busy directing your drone. The park comes equipped with all the necessary amenities for a perfect day out, including restrooms, an off-leash dog area, parking facilities, and designated children's play areas.
Pilot Your Experience
In essence, Marymoor Park offers a complete package for a drone flyer's dream day out. Open year-round, novice and experienced drone operators alike have the freedom to pilot their experience as they see fit. The park ensures a safe, enjoyable, and relaxed atmosphere that any drone flyer could ever ask for, along with the added charm of Washington's natural beauty.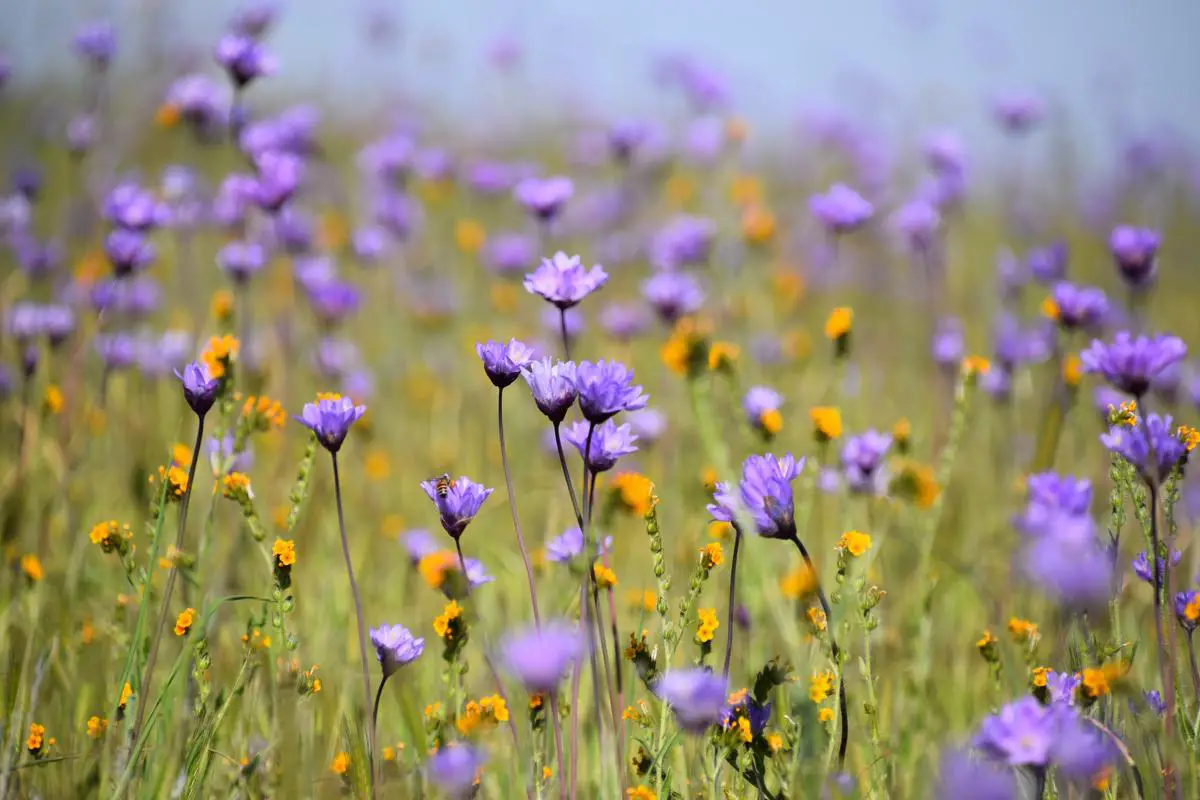 Alki Beach Park, Seattle
Alki Beach Park
Alki Beach Park, located in Seattle, boasts a elongated stretch of sand where you can enjoy an exhilarating drone flight experience. With its panoramic views of Puget Sound dotted with sailboats, ferries, and cargo ships, your drone's lens will find no shortage of captivating sights to capture. One of the highlights is undoubtedly the Seattle skyline in the distance which makes for a stunning backdrop, especially at sunset.
To say Alki Beach Park is popular among drone enthusiasts would be an understatement. On any given day, you can find them spread out across the beach, diligently piloting their drones. The sense of camaraderie is high, and it's a perfect place to pick up tips from veteran fliers or simply appreciate the flying prowess on display.
What makes drone flying at Alki Beach especially enjoyable is its space; the park is approximately 2.5 miles long. This vast space reduces the risk of colliding with other drones and gives ample room to try new piloting techniques.
Of course, drone operations at Alki Beach Park must be carried out while adhering to the FAA's regulations. This includes keeping the drone within the operator's line of sight, not flying over people, and maintaining an altitude below 400 feet. Drone operators should also be aware of the restrictions on flying drones in the vicinity of Harborview Medical Center's heliport. Practicing responsible drone operation ensures a safe and enjoyable experience for everyone involved.
User-friendliness: Easy Access, Plenty of Parking
The Alki Beach Park is also user-friendly with ample parking available, both free and paid, making it convenient for drone enthusiasts to carry their equipment to the beach. Restrooms and several eateries are within walking distance, adding to the leisurely experience of the day out at the Alki Beach Park.
Unleash the Fun
For drone aficionados looking to take their passion to new heights, Alki Beach Park in Seattle should be at the top of your list. With a combination of wide sandy beach, mesmerizing views, and an invigorating community spirit, it's the perfect destination to unleash the fun of drone flying.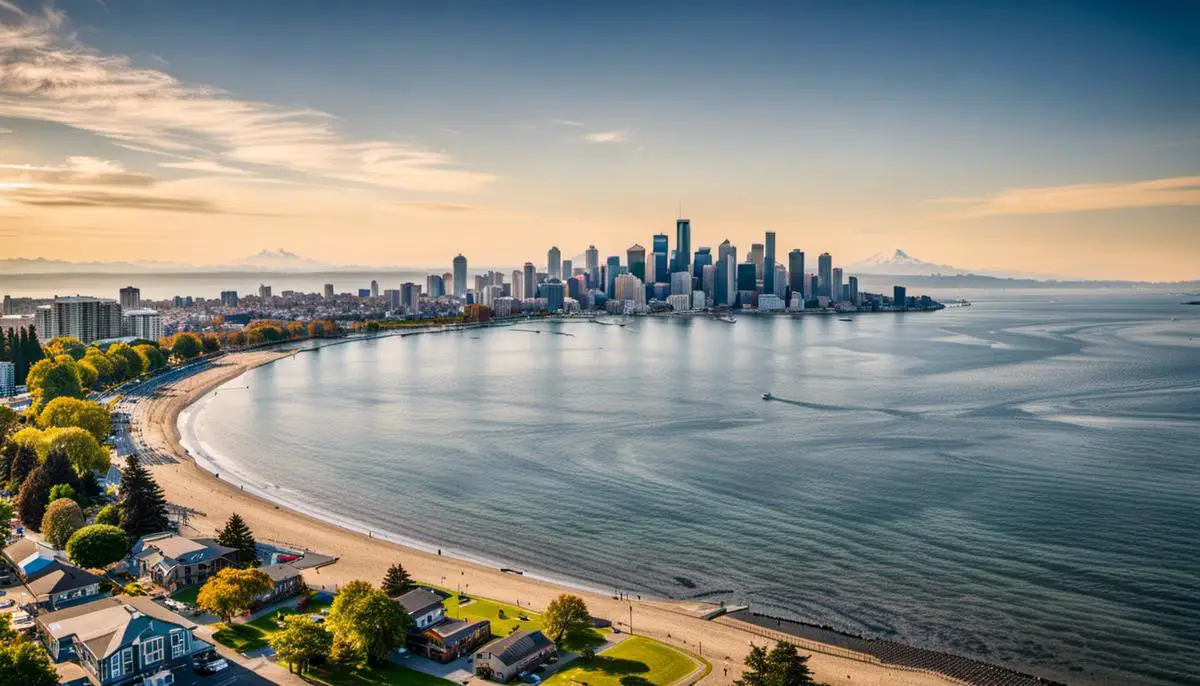 Marine Park, Brooklyn, NY
Marine Park: A Haven for Drone Enthusiasts
Marine Park in Brooklyn, NY, serves as an enthralling terrain for drone enthusiasts. Conveniently located and distinctively designed, this public park boasts a designated area specifically accommodating drone flyers. This considerable emphasis on drone operations enables hobbyists to engage their remote-controlled aircraft without infringing on the activities of other park-goers.
Expansive Scenery
Surrounding this drone-friendly zone, the park unfolds into expansive play areas, meadows, and sporting arenas that add to the overall charm and diversity of scenery. The breathtaking vistas provided here are sure to coax out the best of your drone's camera capabilities.
Safety and Freedom
Not only is Marine Park alluring from a picturesque standpoint, it also appeals from a practical perspective. The wide-open spaces reduce the risk of collision, allowing for safer flights. Additionally, the spacious environment promotes an elevated degree of freedom when piloting your drone.
Exploring Nature from Above
Moreover, for drone pilots who enjoy exploring their surrounding terrains, Marine Park does not fail to deliver. The park features a brilliant variety of flora and fauna. These can make for captivating subjects for those who are with a capacity to capture from great heights and unique perspectives.
Adhering to Regulations
Despite the notable benefits, it's also important to remember that drone operators must abide strictly by the local regulations and guidelines set in place at Marine Park. This ensures a safe, secure, and enjoyable experience for everyone.
Easy Access and Parking
Getting to the drone park is also a breeze. Marine Park is easily accessible via public transit, with numerous bus lines serving the area. For drivers, there's ample parking space available near the park. This significantly eases the transportation of the often delicate and expensive drone equipment.
A Must-Visit Location
Marine Park, with all its natural beauty and wide-open spaces, is a dream come true for drone adventurers. It offers an ideal blend of captivating views, safety, and convenience for drone pilots, making it a must-visit location.
Van Cortlandt Park, Bronx, NY
Unleash your drone at Van Cortlandt Park, Bronx, NY
Van Cortlandt Park, located in the Bronx, New York, offers drone enthusiasts everything they could ever want from a drone park. The park features a special area specifically designed for remote-controlled planes and drones. Proud of its distinction, the park is the home of an extensive variety of drone enthusiasts, ranging from hobbyist beginners to professional operators.
What makes Van Cortlandt Park stand out from the rest is the breadth and freedom it offers. With plenty of wide-open spaces, drone players at any level of expertise can experience the thrill and fun of drone flight without worrying about cramped conditions or obstacles. This expansive park offers unbridled freedom in the blue skies for the buzzing visitors.
In addition to the designated RC field, the park itself is a gorgeous location. Van Cortlandt Park encompasses more than a thousand acres, featuring lush forest, beautiful trails for hiking and running, and picturesque landscapes that create a natural beauty offering the perfect backdrop for aerial photography and videography.
For budding drone operators, the park's vastness serves as an ideal proving ground. Large, open spaces allow beginner pilots to experiment with their equipment and learn the ropes, gaining essential flight experience. On the other hand, expert pilots could exploit the park's vast aerial space for complex maneuvers and stunts, making it a great location for drone meetups and races.
Beyond the drone fun, Van Cortlandt Park also includes leisure facilities and sightseeing spots such as golf courses, sports fields, bird-watching areas, and the historic Van Cortlandt House Museum—a bonus for those who are interested in activities beyond drones. This makes Van Cortlandt Park an excellent destination for a family day out, where you can integrate drone-flying with other pleasurable pursuits.
Safety and Good Practices
Although the park eagerly welcomes RC and drone enthusiasts, it also ensures that the fun doesn't disturb the peace and safety of the park. It's always crucial to adhere to the park's rules and guidelines while operating drones. This includes respecting the designated flying area, not flying too close to people or buildings, and prioritizing general safety and respect for other park goers.
In conclusion, whether you're an experienced drone pilot looking for new challenges or a newbie starting your journey in the world of drone flying, Van Cortlandt Park will serve as a fantastic venue to unleash the fun and potential of your drones while enjoying the park's scenic beauty.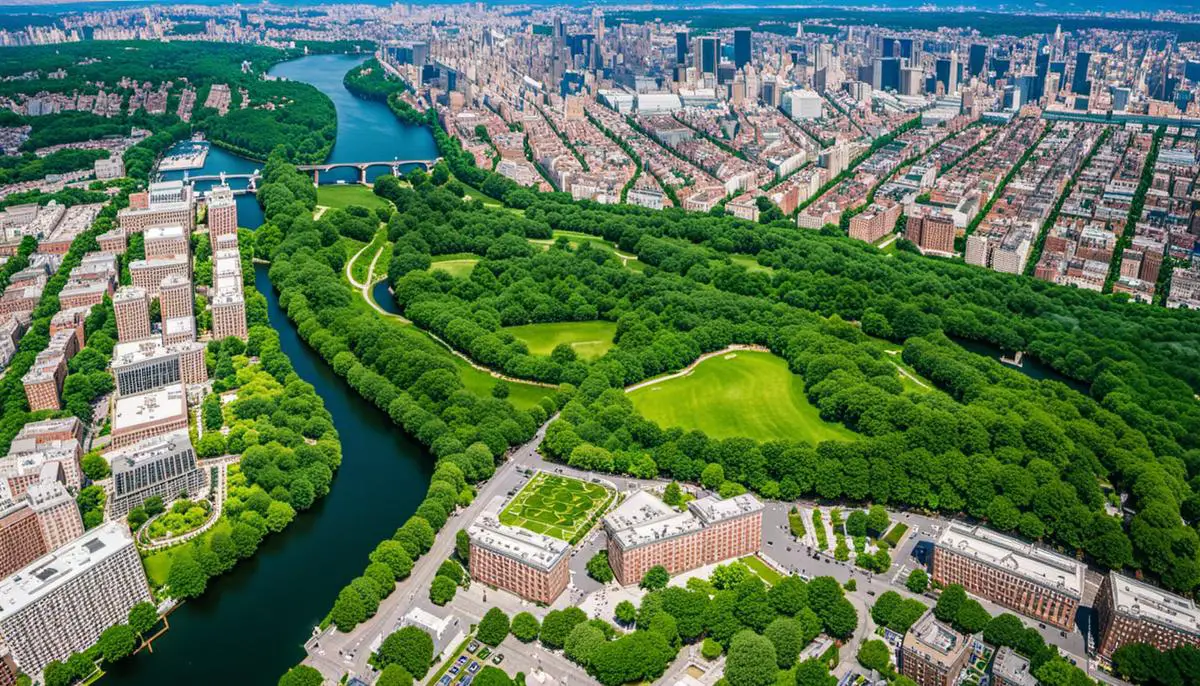 Schenley Park, Pittsburgh
Schenley Park, located in Pittsburgh, is one of the city's largest green spaces, making it an ideal spot to unleash your drone's full potential. A day at this park provides you with plenty of room to maximize your drone usage while also ensuring that your drone does not pose any threat to others due to its extensive space.
The Vast Open Skies of Schenley Park
The expansive open skies of Schenley Park make it a perfect location for drone flying. There's no need to worry about your drone getting lost among trees or that it could potentially hit buildings or power lines. It simply encourages you to explore and push the boundaries of your drone navigating techniques. The sky is truly the limit in the fabulous open skies that Schenley Park provides.
Schenley Park: A Spot for Beautiful Views
Not only is Schenley Park suitable for drone flying due to its size, but its picturesque views also mean that your drone can capture some stunning visuals from its aerial vantage point. With curated flower gardens, towering trees, and a striking cityscape in the backdrop, Schenley Park promises some beautiful drone photography.
Access and Amenities
Schenley Park is easily accessible to the public, and it offers additional amenities that complement your drone-flying experience. With an array of picnic spots, walking trails, and sporting areas, it's the perfect location to spend an entire day – get some incredible footage with your drone in the morning, enjoy a relaxing picnic in the afternoon, then finish with a hike or game photo shooting at dusk.
Safety Precautions to Consider
Always remember to follow all park regulations and rules regarding drone usage to ensure a fun and safe environment for everyone. Schenley Park is a favorite amongst families, and therefore it's important to respect everyone's right to enjoy the park. Keeping your drone within sight at all times and adhering to the rules will give everyone the best experience possible.
Schenley Park, with its vast open skies, picturesque views, and other amenities, makes an ideal location for beginners and advanced drone enthusiasts alike. Come and explore the possibilities at one of Pittsburgh's largest parks.
Chicago Aerial Sports Club, IL
Become a master of drone flight at Chicago Aerial Sports Club
Situated in the vibrant city of Illinois, the Chicago Aerial Sports Club offers a unique space for drone enthusiasts. This thriving community allows for a harmonious mix of drones and RC planes in the same airspace. Ideal for beginners who are just getting the hang of their new drone, or seasoned drone pilots looking to brush up on their skills, the Club provides a safe haven for all.
Learn, practice, and perfect your drone maneuvers
The Chicago Aerial Sports Club provides opportunities to learn the basics, practice until you are confident, and eventually master the art and science of drone flying. A comprehensive set of guidelines helps to maintain safety standards while ensuring everyone has a chance to enjoy their time at the Club.
A supportive environment for drone enthusiasts
Navigating the skies has never been more fun thanks to the supportive community at the Chicago Aerial Sports Club. It's the perfect place to meet like-minded individuals who share your passion for drones. Regularly scheduled events and gatherings are a great way to get out and enjoy your hobby, share tips and tricks, or even participate in friendly drone racing competitions.
Providing a dedicated flying field
Constructed to accommodate a range of aerial recreational activities, the designated flying field at the Chicago Aerial Sports Club is well-maintained and provides a safe, open space for your drone to soar. A place where drone enthusiasts can truly engage with their passion and hobby, the Club ensures to provide an environment conducive to both learning and having fun.
Excellent location in the heart of Illinois
Located in the city of Illinois, the Chicago Aerial Sports Club is conveniently accessible. Whether you're local or visiting from out of town, this drone Park is a must-visit for drone hobbyists and enthusiasts. And while you're in the area, explore the rest of this exciting city–after all, the view from the ground can't compare to the aerial perspective your drone provides!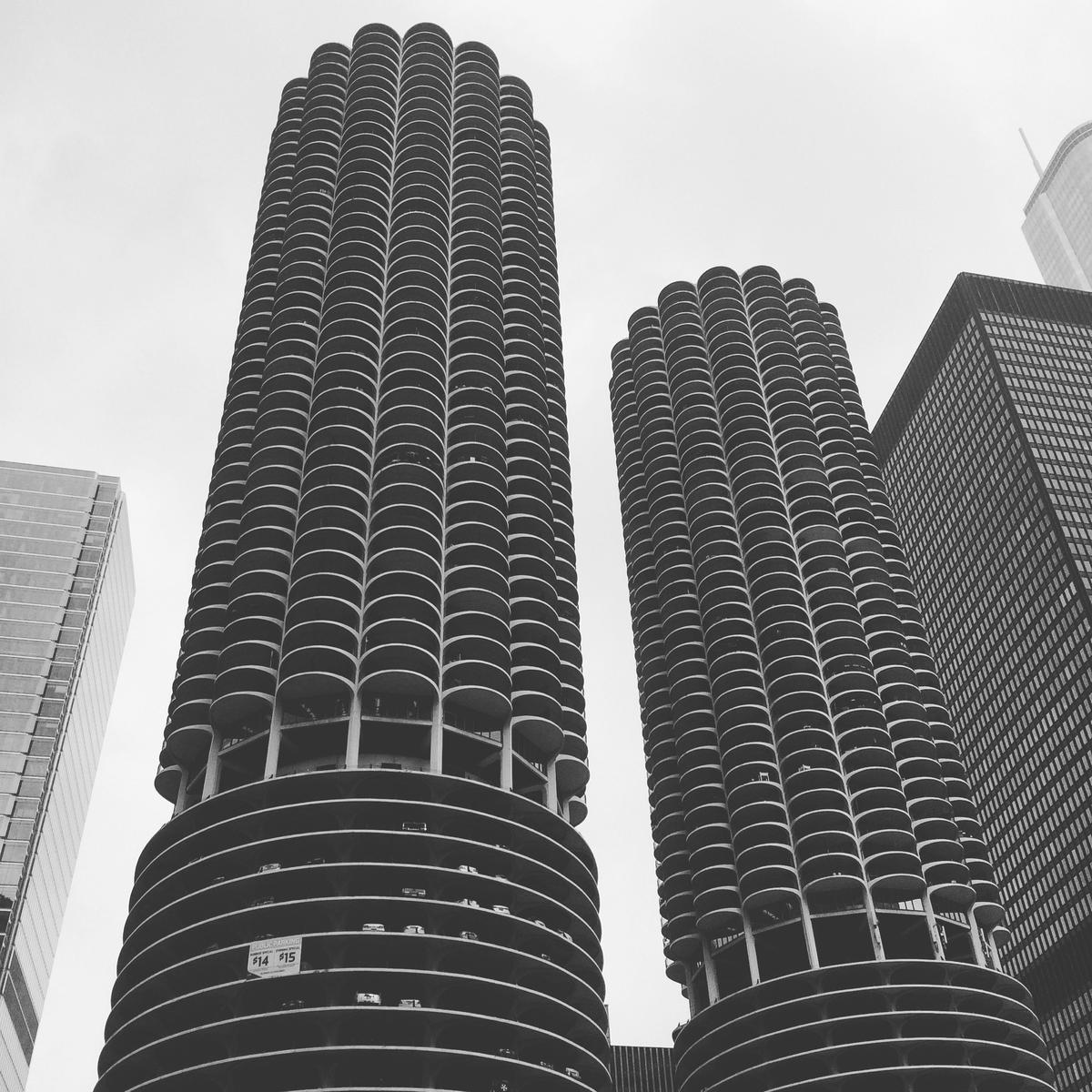 Photo by doublekk15 on Unsplash
Whether you're an experienced drone operator seeking a challenging landscape to navigate, or you are just taking your first steps into this exciting hobby, these prime locations are designed to make your drone-flying experience both fun and memorable. With parks offering unique views from the California shorelines to the vast open spaces of Florida and New York, you have an array of outdoor venues to fuel your passion for drone operation. And if you're looking to connect with an inspiring community, places like the Chicago Aerial Sports Club are ideal for learning, practicing, and mastering your drone flying skills. So, charge up your drone batteries and enjoy the amazing joyride at these wonderful drone parks across the globe!
Drone Parks Near Me: FAQs
Here are some FAQs about drone parks near me:
Q: What is a drone park?
A: A drone park is a designated area where drone enthusiasts can fly their drones safely and legally. It is typically a large open space with few obstacles and minimal restrictions on drone use.
Q: Where can I find drone parks near me?
A: You can find drone parks near you by searching online for "drone parks near me" or "drone flying locations near me." You can also check with local drone clubs or organizations for recommendations.
Q: Are there any rules or regulations for flying drones at a drone park?
A: Yes, there are rules and regulations for flying drones at a drone park. These may include restrictions on drone size and weight, altitude limits, and designated flight areas. Some parks may also require registration or certification for drone pilots.
Q: What are some safety tips for flying drones at a drone park?
A: Some safety tips for flying drones at a drone park include avoiding flying near people or animals, maintaining a safe distance from other drones, and always keeping your drone in sight. You should also follow the rules and regulations of the park and be mindful of weather conditions and other hazards.
Q: Can I rent drones at a drone park?
A: Some drone parks may offer drone rentals, but this varies by location. It is best to check with the park or local drone clubs for more information on rental options.
Q: What are some popular drone parks in the United States?
A: Some popular drone parks in the United States include the International Drone Racing Association (IDRA) Drone Racing Park in California, the Freedom Park Drone Field in Virginia, and the FPV Playground in Colorado. However, there are many other drone parks and flying locations throughout the country.